From a single one-day gathering in 2014 to a year-round conference schedule spanning the globe, SportsPro's event portfolio has grown and evolved in tandem with the wider company.
With established annual summits in London, Madrid, New York and Singapore, as well as an expansive and ever-growing slate of virtual gatherings and executive workshops, live events sit at the heart of our business, not to mention the industry at large.
As we prepare to stage the tenth edition of SportsPro Live, our flagship international conference, at London's Kia Oval on 25th and 26th April, we thought we'd take the opportunity to look back and reflect on what we've learned over the past decade.
---
Delegate experience is everything
Content and networking are still the two main reasons why people attend sports industry events. Yet when it comes to delivering a must-attend conference, compelling keynotes and panel sessions interspersed with coffee breaks only get you so far, no matter how good the coffee is.
Delegate time is valuable – even more so now that we live in a hybrid world. People are more discerning than ever and need to see clear value when investing their limited time (and money) in attending any event. If something better comes along, it won't be long before that time and money is invested elsewhere.
A carefully curated delegate offering is therefore paramount and, in our experience, it's the events around the event that keep people coming back. That's why we've always endeavoured to ensure there's so much more to the live event experience than content and networking – from stadium tours, cocktail receptions and VIP dinners, to racing simulators, tapas tasting, football tournaments and 5k runs.
Creating experiences around the event ensures delegates keep coming back
---
So much has changed – and so much hasn't
The overarching theme for the inaugural SportsPro Live in 2014 was 'the blueprint for sport's next decade'. That single-day event, held at Arsenal's Emirates Stadium, saw the likes of Casey Wasserman, Sir Keith Mills and Sally Hancock discuss everything from 'the rise and rise and rise of social media' and 'the complicated world of CSR', to 'the challenges and opportunities of new technology', 'how to turn data into a valuable asset', and 'the changing role of agencies'.
Those subjects continue to be eagerly debated today. Indeed, while many of those who appeared on our inaugural agenda have moved on to pastures new, the topics of conversation have largely remained the same despite significant transformation sweeping the industry.
Sure, there was no talk of TikTok, NFTs or 'Drive to Survive' in 2014, nor were there so many chief content officers and sustainability directors appearing on our stages in the early years. But the big challenges sport faces are the same today as they were back then, even if the solutions it seeks to overcome them have evolved.
Understanding, attracting, retaining and, of course, monetising fans was and always will be the name of the game. Technology has undoubtedly come to play a greater role in achieving those goals, impacting everything from media strategies to the in-venue experience, but the underlying objective – for sport generally and our delegates in particular – endures.
The names on SportsPro's event agendas might have changed over the years but many of the subjects debated ten years ago remain relevant today
---
Virtual has its place, but nothing beats meeting in person
As event organisers, we have to be flexible and pivot when required. In early 2020, soon after the Covid pandemic took hold, we shifted all our events into virtual settings. The launch of our Insider Series helped keep our audience informed and the industry connected at a time when lockdowns had put paid to live events across the globe.
Simply put, if we had not created our virtual events during this time, we would not have managed to maintain the events arm of the business.
Three years on, virtual gatherings still have their place, but live events remain the beating heart of the sports business community. There is still a fundamental need for face-to-face interaction – it's human nature, and you simply can't replicate that during an online event.
Virtual events still have their place but meeting face-to-face can't be recreated in an online setting
---
Advocates are our best marketing tool
Perception is everything in the world of live events. Things can and will go wrong, it's how you deal with them that matters most (and as organisers we are hardest on ourselves). Ultimately anyone can put on an event, but to do it well requires planning, planning and more planning.
The importance of perception has only heightened over the years as social media has become a bigger factor in B2B events, amplifying content reach and engagement. The sense of FOMO that is created during consumer-focused events is very much intruding into the B2B world and we want to lean into that wherever possible. Our in-house production, content and marketing teams do a fantastic job building anticipation and bringing our events to life while they happen, but ultimately it is our attendees who do much of the work on our behalf.
Delegates are, in many ways, media outlets in their own right. More and more of our attendees, particularly those with broad networks, extensive social followings and perhaps even a Substack newsletter, write up their 'top five learnings' from events, so we always strive for quality. We've come to value the views of our delegates above all, fully aware that an unprompted testimonial from an industry advocate is our most powerful and authentic marketing tool.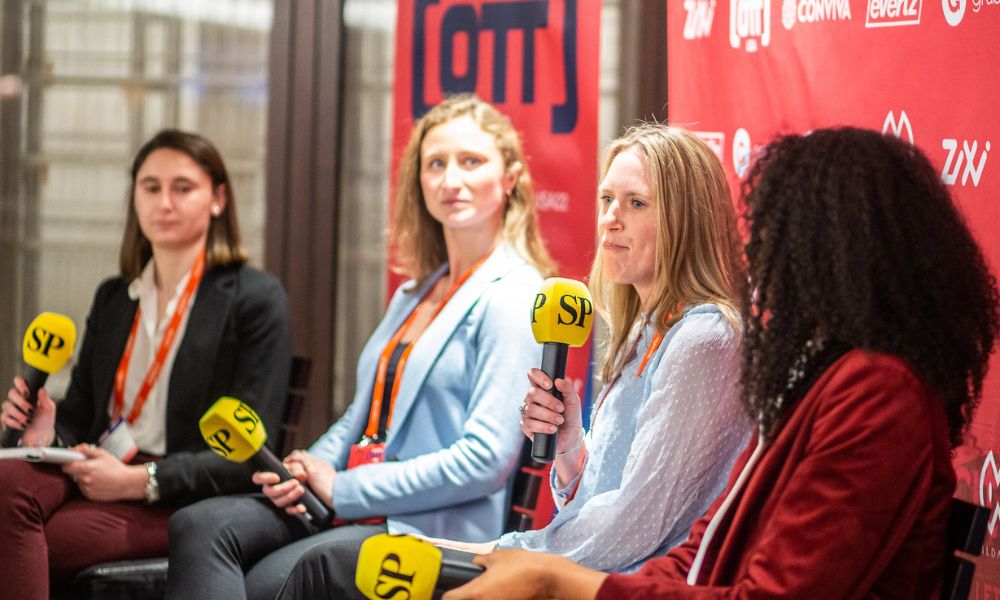 Having a diverse range of views and perspectives represented is crucial to putting together an informative agenda
---
Diversity has never been more important
It's no secret that gender balance is still very much an issue in the sports industry. We'll admit that the first SportsPro Live wasn't exactly the most diverse from a speaker and delegate standpoint, but we've taken steps to improve year after year.
Our delegate profile and the job titles of those who attend suggest that, over time, we have started appealing to bigger and broader portions of an organisation; where once it was one person representing a company, we now see ten representatives or more coming to our events. That said, even today, many commercial clients still send male executives to corporate events more often than note. But times are changing.
We are seeing more and more women's support groups and female-focused communities, including SportsPro's own NEW ERA programme and other initiatives like the Women's Sport Collective, driving change and moving the industry forward. At SportsPro, we're doing all we can to support the movement. Our NEW ERA Open Day at this year's SportsPro Live is just one example of our ongoing efforts to boost gender equality and representation within sport.
---
Not every event will be a success
While many of our events have gone from strength to strength, others no longer exist. SportsPro's dedicated sponsorship and marketing event, The Brand Conference, launched in 2016 before becoming the Fan Conference in 2019. By 2021, that event was no more.
Knowing when to change and where to focus your energy is key. To my earlier point, every event must hold relevance and value for delegates and partners, otherwise it's just noise.
---
This feature forms part of SportsPro's Live Events Week, a week of coverage exploring how promoters and host destinations are bringing events to life, as well as how venue operators and their suppliers are navigating newfound economic pressures. Click here to access more exclusive content and sign up to the SportsPro Daily newsletter here to receive daily insights direct to your inbox.
---