When Tottenham Hotspur decided to move from White Hart Lane to a brand new state-of-the-art stadium next door, the Premier League soccer club knew it had to make the new arena as special and as atmospheric as its home of more than 100 years.
No stone was left unturned in the quest to build the perfect soccer venue, with unprecedented attention paid to elements like acoustics, AV equipment, and stand structure. The new stadium's 17,500-capacity South Stand is the largest single-tiered stand in England, the longest bar in Europe helps fans get their half-time pints quicker, and the range of catering and hospitality options is unparalleled in the country.
Tottenham Hotspur Stadium combines everything fans loved about White Hart Lane with all of the advances made in stadium design and technology over the last century, opening up new revenue streams for the club and delivering a painless, modern experience for supporters who will hopefully spend more time at the ground.
Tottenham Hotspur Stadium is one of the modest modern soccer arenas in the world (Credit: Getty Images)
But the club acknowledges the old adage 'seeing is believing' still holds true. Its partnership with Ticketmaster not only simplifies the process of purchasing and distributing match tickets, it also helps drive awareness of its experiences and catering options to fans at the point of purchase with 3D Virtual Venue.
The technology offers fans a glimpse of the view from their seat and allows them to compare different ticket and hospitality options, bringing the stadium to life and driving fan satisfaction and sales.
SportsPro sat down with Ian Murphy, the head of ticketing and membership at Tottenham Hotspur, and Chris Gratton, the chief operating officer of Ticketmaster Sport, to find out more.
Tottenham are the first Premier League club to use Ticketmaster's 3D Virtual Venue. How does the technology work and what was involved to get it up and running at Tottenham Hotspur stadium?
Chris Gratton: Last year we launched our co-innovation partnership with Tottenham Hotspur and as part of that we wanted to look at technologies that can completely innovate the way that the club interacts with their fans. Virtual Venue 3D technology gives the fan the opportunity to completely refine their buying experience and compare and contrast between options within the stadium, both in general and premium areas to perfect that buying experience.
In order to get it up and running we worked with the club to build a brand new integrated sales flow and identical stadium replica in digital 3D from scratch. We've already seen the technology stand up to onsales and be performant whilst allowing fans the opportunity to see areas of the stadium they never would have the option to normally.
Ian Murphy: As part of our ongoing commitment to improve and enhance the experience of our fans in all their interactions with us, we were pleased to work with Ticketmaster to develop this upgrade to our ticket purchasing experience. Introducing the latest technology using Virtual Venue allowed us to give fans the chance to see the different views from available seats.
What have been traditional pain points when it comes to ticketing – both from a customer and a club point of view? How will this technology benefit fans wanting to buy tickets and how does it differ from other 'view from my seat' features?
CG: Traditional pain points in the sports ticketing purchase process are continually evolving in line with broader consumer expectations. For many years the buying process in sports lagged behind the truly streamlined and efficient processes in [fast moving consumer goods], retail and airline industries, but we believe with the introduction of our completely redesigned front end sales flows, benchmarked against those industries for best practice, and the addition of Virtual Venue we can address two of the main ones.
Namely, they are speed and ease of conversion alongside the ability to tailor, down to your own preferences on sight lines, your selection process. Virtual Venue does away with flat plan seating maps with view from seat and gives you the ability to select, view and, as 3D Virtual Venue is fully integrated, buy in one flow. It also allows screen in screen visibility on comparing seats and lines, as well as viewing lounges and premium spaces which really brings the stadium to life in a way that traditional view from seat doesn't do.
Additionally, the architecturally accurate 3D detailing gives sports clubs and organisations the ability to maximise sponsorship opportunities.
IM: The biggest issue that Virtual Venue is addressing is that it allows people who are buying tickets to explore the venue more accurately than ever before ahead of making a purchase. If someone is not familiar with the venue, wants to experience an alternative location or has specific requirements for their visit, then Virtual Venue gives much greater levels of detail than we have been able to offer online in the past. The ability to compare different views and locations gives further options and information to the visitor as well.
Many of these points would previously have been dealt with via a telephone call, so as well as giving a better fan experience it also helps to reduce inbound call traffic.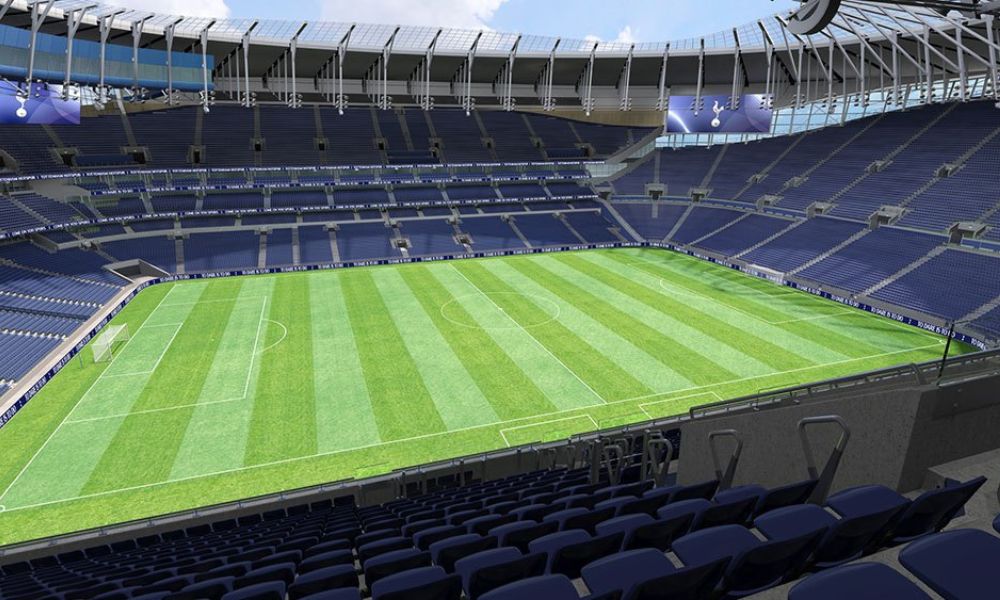 3D Virtual View offers fan an indication of what their view will be at the game.
Attending a sporting event is no longer a case of turning up five minutes before kick-off and then leaving as soon as possible. It's increasingly about experiences. How can technology like 3D Virtual Venue help fans learn more about what to expect when choosing their seats?
CG: Working with Tottenham we really wanted to bring to life the experience and opportunities within the wider footprint of the stadium and different areas throughout the stadium. Virtual Venue allows us to bring to life not only the bowl and hospitality areas but anything the venue decides they want to showcase, such as concourses, bars, restaurants and, in the case of Tottenham, the Dare Skywalk, stadium tours and other attractions as they are added.
To that end, fans can really understand the experience and plan where they want to meet and what they want to do on the day well in advance. Virtual Venue also brings the club's branding and the fans' passion for attending live matches to both the 'know before you go' and the buying process.
IM: The initial release of the platform on our website has largely focused on the bowl seating and premium areas of the stadium. Over time we will look to expand Virtual Venue into the other areas. This will provide detail and information that was previously unavailable online regarding the location of food and drink outlets and all other facilities that could impact where a supporter opts to purchase their seats.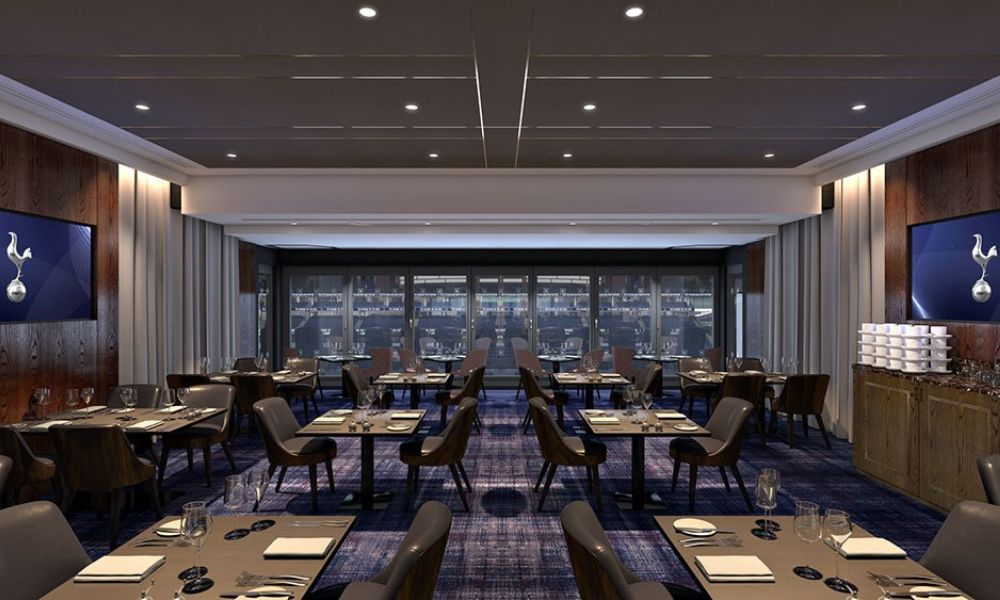 Corporate customers can also preview the stadium's impressive hospitality options
The variety of hospitality options is one of the most unique elements of the Tottenham Hotspur Stadium. How does 3D Virtual Venue capture this in a way that wasn't previously possible?
CG: With Virtual Venue you can showcase the stadium to its absolute best. To that end, for premium areas including hospitality, where the fan is expecting the absolute best from their experience, we are able to give them a true representation of the experience they are buying.
Club and venue has an international appeal and Virtual Venue allows those potential new fans to virtually set foot inside the venue to view all ticket and experience options open to them, including premium areas and hospitality.
IM: Historically our online platforms would have struggled to do justice to the facilities available at the Tottenham Hotspur Stadium. Virtual Venue has given us the opportunity to visually showcase the state of the art premium facilities at the venue both as part of the direct sales journey or as part of a wider conversation with prospective clients who are interested in exploring options available to them.
Spurs have left no stone unturned in their pursuit to make the new stadium one of the best in world soccer and technology is a huge part of that. How important is it for the club to continue to innovate with services like 3D Virtual Venue?
IM: Virtual Venue provides a platform for continuous innovation at our venue and what we do digitally is a core part of our DNA. When designing our venue, we incorporated technology into the fabric of it, which has allowed us to accelerate innovation to support our business operations and to continue to enhance the fan experience. 3D Virtual Venue, with Ticketmaster Sport, has given us an operational tool that supports our premium and general admission ticketing journey and also allows our fans to experience our venue virtually, enhancing the digital experience they have with the club.
Ultimately, what do Tottenham hope to gain from this technology? How will you measure success?
IM: We are constantly striving to provide our fans with the best experience whenever they interact with us. The introduction of Virtual Venue is a further step in making the fan experience the best it can be as well as highlighting the range of seating options available throughout all areas of the stadium. We are looking forward to continuing to work with Ticketmaster to develop and improve the platform in the future.
---