Authenticity is a well-worn buzzword in sports marketing. In the world of sustainability, too, it's wheeled out more often than an average household's kerbside recycling.
But as hackneyed as the term is today, authenticity is what's required if businesses are to genuinely make a difference and inspire others to do the same.
Changing societal attitudes have precipitated a shift in consumer purchasing behaviour, which in turn has prompted the corporate world to place greater emphasis on organisational purpose and brand values. Now, there is growing evidence to indicate that organisations who act responsibly, guided by strong leadership and a clear sustainability agenda, will see increased revenue in the coming years. Yet acting responsibly means opening up to scrutiny and all that entails.
Sports rights holders have long cottoned on to this reality and many are now taking action in one form or another, but some are clearly more willing to prioritise sustainability across all facets of their business. While gimmickry remains commonplace and, in the most specious cases, borders on greenwashing, there are several shining examples of sports teams and leagues whose efforts go far beyond the now-customary pledges and awareness campaigns to deliver positive impacts outside of their own organisation.
Here, SportsPro picks through the PR fluff, shiny strategy documents and catchy hashtags to identify five rights holders who are leading by example and truly walking the talk on social and environmental action.
---
World Surf League
Ocean conservation, marine habitat restoration and reducing plastic pollution are all natural causes for the World Surf League (WSL) to support. The ocean is the surfing community's office and playground, after all.
Having founded its non-profit arm, WSL Pure, in 2016, the WSL has since morphed its sustainability strategy into the 'We Are One Ocean' initiative, a multi-stakeholder effort whose goal is to protect or preserve 30 per cent of the world's oceans by 2030. Launched in 2021 with the support of a coalition of more than 90 NGOs and businesses, including World Sailing and Surfers Against Sewage, the initiative encompasses a raft of measures that are having a tangible impact on the communities and environments in which the WSL operates.
In 2022, activations at each of the league's world championship tour stops included the collection of 100 tons of plastic from rivers in Indonesia, the removal of 7,000 pounds of invasive weeds from Hawaii's North Shore, and the conservation of two surf ecosystems in Costa Rica and Indonesia. The WSL also doled out cash grants to conservation groups in the USA, Indonesia, Mexico, Portugal, Brazil and South Africa.
The WSL's 'We Are One Ocean' initiative encompasses activations at every tour stop, with projects ranging from coral gardening in Tahiti to beach cleans in South Africa and tree planting in El Salvador (Credit: World Surf League)
Since 2018, the WSL claims to have halved CO2 emissions and reduced waste by 70 per cent across its events and operations. Pro surfers and WSL sponsors, including Shiseido and Corona, play a central role in the effort, which is independently audited and fully integrated across the tour's various business practices, event broadcasts and digital channels.
The end result is an all-encompassing campaign that brings both credibility to the WSL's brand storytelling and measurable commercial benefits. With several sponsors having signed with the tour owing to its sustainability credentials, WSL chief executive Erik Logan told Boardsport Source last June that the tour's revenue had swelled by 20 per cent and its partner portfolio by 35 per cent compared to pre-pandemic levels.
---
SailGP
Another globe-trotting, billionaire-backed, seafaring sports property that has nailed its colours firmly to the sustainability mast is SailGP, the upstart sailing league which took to the seas for the first time in 2019. Self-described as 'the world's first climate positive sport and entertainment property', SailGP touts its central mission at every turn, so how exactly is the organisation living up to that lofty billing?
Perhaps the most publicly facing way is through its much-vaunted Impact League, which tracks the positive actions teams are making to reduce their overall carbon footprint and help boost inclusivity in sailing. At every event, each team is awarded points based on its fulfilment of a set of social and environmental sustainability criteria, ranging from pioneering new technologies focusing on clean energy solutions and removing all single-use plastics, to diversity and inclusion initiatives.
Team New Zealand topped the league's first 'podium for the planet' last year, earning US$100,000 in prize money for its charity partner, Live Ocean Foundation. Other teams are also fully embracing the initiative, which is somewhat unique in sport for being a meaningful attempt at connecting sustainability with the core product.
The Impact League was just one of many projects included in SailGP's first annual Purpose and Impact Report, which highlighted the key successes and challenges faced in season two. Within it, the series outlines that 99 per cent of its overall emissions are classed as Scope 3, which constitutes those generated from indirect sources, such as supply chain and fan travel. That daunting figure brings added complexity to the challenge of reducing the series' environmental impact, but SailGP is not shying away from it, encouraging its partners and suppliers, such as logistics firm Kuehne+Nagel, to operate more sustainably.
SailGP's Impact League rewards competing teams for reducing their impact and taking action according to ten sustainability criteria
---
Angel City FC
Angel City FC, the Los Angeles-based National Women's Soccer League (NWSL) expansion franchise launched in 2020, don't just put their money where their mouth is – they force their commercial partners to do the same
To date, the club has been built on a startup mentality, a commitment to social equity and a unique commercial philosophy that sees ten per cent of every sponsorship fee reinvested back into the community. That model has proved wildly popular with socially conscious brands, contributing towards the most lucrative kit deals in the NWSL and a burgeoning partner roster that features companies that had never previously invested in sport.
In a recent interview with SportsPro, Julie Uhrman, the team's co-founder and president, spoke of her vision to create an organisation 'where mission and capital come together'; a sports team where success isn't only measured by what happens on the pitch, but also by the impact being delivered within the community. "We come in strong and we don't negotiate," she said, citing the community-giving aspect of every sponsorship deal and the importance of values alignment as clear guiding principles when it comes to talks with prospective sponsors.
Uhrman's hardline approach is already paying dividends. In 2022, Angel City allocated just over US$1 million to local organisations, with the funding split between its three impact pillars of equity, essentials and education. At the end of the year, the club had more than US$43 million in committed sponsorship revenue across 27 partnerships.
---
Forest Green Rovers
Pick a name for the world's most environmentally friendly soccer club and you'd probably land on Forest Green Rovers. Held up as the poster child of sports sustainability, the English third-tier side is internationally renowned for its green credentials; a Fifa-certified, UN-approved, carbon neutral club owned by a climate activist-cum-renewable energy entrepreneur.
Forest Green – with their all-vegan matchday menu and plans for an all-wooden stadium named Eco Park – are living proof that purpose can pay whilst serving as the financial foundation for sporting success. Partnership revenue at the club has grown fivefold and hospitality income has trebled since 2019, coinciding with a period of improvement on the pitch, including a promotion to League One last year. They are also punching above their weight by cultivating an impressive following overseas thanks to a growing network of fan clubs, with over 40 per cent of retail sales generated abroad.
Indeed, pioneering sustainability is so entrenched in Forest Green's ethos that an official partnership with the club has become an unofficial form of environmental certification. Having been bestowed with the Forest Green seal of approval, a mix of renewable energy firms, plant-based product suppliers and other ethical brands of varying persuasions feature within a commercial portfolio that also includes Sea Shepherd, the non-profit organisation working at the frontline of marine conservation.
Forest Green are now working to expand their influence even further. Since 2021, under Vince's leadership, the club has been actively supporting nearly 300 businesses, including rival soccer teams, to become more sustainable through a global sustainability accreditation called GreenCode, which sets out environmental standards and provides guidance for organisations to make practical improvements. That project is serving to scale up Forest Green's impact and apply lessons learned over many years of action.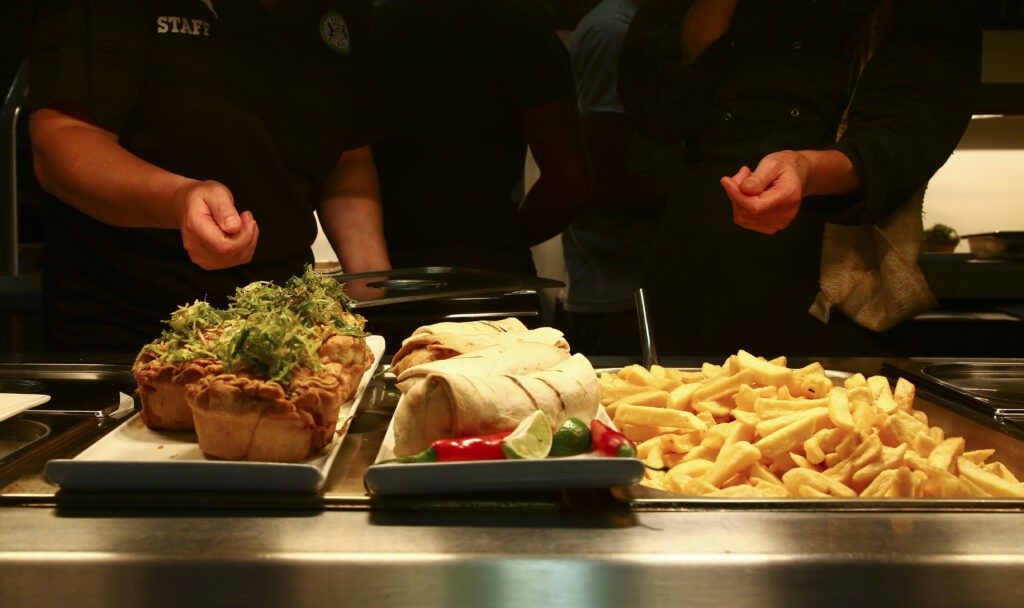 Forest Green Rovers became the world's first vegan soccer club in 2017
---
The Ocean Race
The Ocean Race's 'Racing with Purpose' sustainability action plan is as comprehensive as any in sport. Spanning a raft of initiatives incorporating innovation workshops, host city summits, sustainable event management, and science and education programmes, the round-the-world sailing contest is going the extra mile with an ambitious, properly thought-out, independently verified strategy that neatly aligns with, and meaningfully contributes towards, the UN's Sustainable Development Goals (SDGs).
---
Aside from monitoring and reducing the impact of its own event, The Ocean Race is actively petitioning for a Universal Declaration of Ocean Rights, which will be presented to members of the UN General Assembly in September. Through its 'Relay4Nature' and 'One Blue Voice' campaigns, the race is working to bring about systemic change by pressuring policymakers worldwide to radically increase ambition and urgency when it comes to restoring and protecting ocean health.
During the ongoing 14th edition of the race, every participating boat is doubling as a research vessel as it embarks on a six-month, 60,000km circumnavigation of the globe, in what the organisers are calling 'the most ambitious and comprehensive science programme created by a sporting event'. As part of the programme, each vessel is being used to study the impact of climate change and plastic pollution on the seas, capturing 15 types of environmental data and sharing it in real time via satellite with governments and research organisations around the world.
Boasts competing in The Ocean Race double as scientific research vessels, collecting valuable data used to study the impact of climate change
All of the collected data is open-source and will feed into reports, including those produced by the Intergovernmental Panel on Climate Change (IPCC), and databases that inform the Global Carbon Budget, an annual assessment of carbon dioxide that is used to set global reduction targets and predictions.
---
This feature forms part of SportsPro's Sustainability Week, a week of coverage exploring how the sports industry is trying to balance people, planet and profit. Click here to access more exclusive content and sign up to the SportsPro Daily newsletter here to receive daily insights direct to your inbox.
To find out more about SportsPro's future themed weeks, click here.
---