Last week, it was announced that the European Broadcast Union (EBU) and Warner Bros Discovery (WBD) had jointly secured all media rights in Europe for the next four Olympic Games between 2026 and 2032.
The new deal with the International Olympic Committee (IOC) gives the EBU a direct relationship with the IOC for the first time since 2012, having lost out to the Sportfive agency for Sochi 2014 and Rio 2016, before WBD secured its current exclusive agreement that ends with next summer's Paris Olympics.
On the back of the announcement, SportsPro unpicks the new deal and explains what the arrangement means for WBD and European public service broadcasters (PSBs) from 2026 onwards.
---
Who gets what?
While the EBU, which represents more than 100 PSBs across Europe, has picked up free-to-air (FTA) rights on television and digital platforms from 2026 to 2032, the organisation's members remain restricted in how much coverage they can provide viewers.
Beginning with the 2026 Milano-Cortina Winter Olympics, every EBU member will be able to broadcast more than 200 hours of the Summer Games and at least 100 hours of the Winter Olympics on television. They will also have 'a broad range' of rights spanning radio coverage, live streaming and reporting across digital media platforms.
In Germany, Hungary and the Nordics, EBU members will have full rights to the Games, meaning WBD's Discovery+ platform will not have exclusive streaming rights in those markets.
Meanwhile, WBD will retain its billing as the 'home of the Olympics in Europe', continuing to stream the Games in their entirety on its streaming and digital platforms such as Discovery+. It will also have full pay-TV rights for the Games, with linear TV coverage to be broadcast on its Eurosport channels.
We're thrilled to announce we've secured the media rights for the next 4 editions of the @Olympics on behalf of #PublicServiceMedia

Everyone, everywhere, will have access to the sports they love, wherever & whenever, free-to-air: https://t.co/q9RjeV1DXI@iocmedia pic.twitter.com/R7GwrFw6ye

— EBU (@EBU_HQ) January 16, 2023
---
What changed from the current deal?
Simply, the addition of the EBU as a joint media rights partner, which hasn't held rights to the Olympics since 2012.
In 2015, WBD – then simply known as Discovery – agreed an exclusive deal across all platforms for the broadcasting rights to the Games between 2018 and 2024 in a contract worth €1.3 billion (US$1.45 billion).
While EBU members have continued to show the Olympics during that time, they have been required to agree sublicensing deals with WBD directly to show the Games, while the media giant's Eurosport channels and on-demand platforms have been the event's primary broadcaster. Now, EBU members can take a seat at the table and deal directly with the IOC, with no sublicensing agreements necessary.
Another key aspect is that WBD is not solely responsible for the financial costs of the rights, as it now only pays for the amount of content it's keeping. No sum for the deal has been disclosed but Variety has reported that the value of US$1.5 billion can be used as a 'guide'.
---
Why did the EBU decide to return to the table?
Eurovision Sport executive director Glen Killane tells SportsPro he felt strongly that the EBU needed to re-establish a direct relationship with the IOC, with its members previously dealing with WBD when it came to sublicensing deals.
"It made sense for us to work together, and for us to defend the interests of public media, and for WBD or another partner of that type to defend their kind of commercial interest," he says. "As Thomas Bach said, it's a bit of a marriage made in heaven, because you're getting both sides of the equation."
In Killane's view, EBU members had grown accustomed to negotiating sublicensing deals for the Games at a considerable financial cost, while the future relevance of public service media was simultaneously being questioned.
"This is no reflection on Discovery, who have been fantastic partners all the way through," he points out. "But when I looked at the numbers, it was like EBU members were first buying a business class seat on a plane, they're handing the ticket to somebody else, and then they're sitting at the back.
"So they're paying the price, but they weren't getting any of the credit for that and getting the halo effect for public service media. What it [the sector] does for sport was not being recognised. That's important for us to tell that story consistently, because people will ask: 'Well, why do we have public service media then?'
"It's precisely for moments like the Olympic Games. For public service media that's a really important event, in the public service media calendar as well, in terms of promoting sports, some that don't always get the limelight shone on them.
"That can work really well with a partner like WBD as well, because there's so much content to go around. But we needed to make sure there was space for a partner like WBD and that we could both work together."
The Olympic Games is a key moment for public service media
---
What does this mean for Warner Bros Discovery?
For WBD, the restructured deal allows the media giant to focus more on its role as the Games' primary broadcaster, rather than having to negotiate sublicensing deals for IOC events held every two years.
"We're not really in the sublicensing business," Andrew Georgiou, European sports president and managing director for WBD tells SportsPro. "That's not our core business. We are ultimately a broadcaster, a content producer.
"So we think this was just a smarter way to structure the deal to allow the public sector broadcasters to have both a direct relationship, as well as continuity, and us to step out of the middle. And for us to have a direct relationship and maintain that direct relationship in relation to the content that we're going to use ourselves.
"For us, this was a much simpler structure and relationship rather than [it] being between us and 45 public sector broadcasters."
It is also the latest instance of WBD restructuring some of Discovery's rights arrangements following the company's merger with WarnerMedia, which have represented a shift back towards more traditional rights holder-broadcaster relationships. Earlier this month, the combined entity moved to renegotiate a 12-year, US$2 billion international broadcast agreement with the PGA Tour, retaining its coverage across key markets while giving the golf circuit more control over its other international broadcast partnerships in the future.
Despite the IOC arrangement also being altered, Georgiou reiterates that Discovery+ will remain the only place to access every minute of Olympics action.
"Discovery+ will be the only place where you can get everything in almost every European market," he says. "The simplicity of that consumer proposition, I think, is really important for us. [It's] the place where you can get everything.
"Public sector broadcasters don't have the bandwidth, in most cases, to be able to deliver that. That's the position we've maintained, [that] we're the place where you can get absolutely all the content guaranteed, all live events in one place."
---
What does this mean for the BBC and other PSBs?
While some broadcasters like the BBC and France Télévisions will largely see their output unchanged, others in smaller countries will benefit from an increase in the number of hours of Games coverage they can show.
In addition, FTA digital rights have been secured for every EBU member. As not every PSB has sufficient digital infrastructure at the moment, Killane says the EBU plans to help every member have at least one service in place by 2030. At the end of last year, he told SportsPro that the organisation was planning to support its stakeholders by investing in a common over-the-top (OTT) platform.
There will also be loosened editorial restrictions on FTA broadcasters in terms of choosing what to cover. Killane cites the example of the Finnish EBU member now being able to broadcast Olympic ice hockey, a sport beloved by its citizens, which was previously off limits when Yleisradio Oy negotiated a sublicensing deal with WBD. Other Nordic members, such as Sweden and Norway, are also now included in the deal, with its broadcasters having been unable to show the Olympics since 2012.
---
How justified is criticism of the BBC's recent Olympic broadcasts?
For the past two Games, the BBC has received strong criticism for what detractors have called 'severely limited' and 'pitiful' coverage across its platforms.
Killane, however, is keen to defend the UK PSB, highlighting that it puts unlimited hours of content across two linear channels and online, which amounts to considerably more than the minimum of 200 hours permitted by the IOC.
"I was disappointed with the press reaction to Tokyo and Beijing where there was some criticism that the BBC weren't able to show everything," he says. "The BBC deal, I believe, represents really good value for the licensed payers' money.
"The only kind of criticism that I saw was that there could be a conflict if there's three medal events held at the same time. But this is a balance. I think the BBC have done a really good job on the Olympics and deliver over 90 per cent of the audience.
"But there does need to be room for a partner like Discovery as well. There are compromises that will have to be made, but in terms of the hours delivered to the British public, the BBC are going to massively deliver on that.
"I was disappointed that they were getting so much criticism, because they do a fantastic job on the Olympic Games, and they really were hugely instrumental in making the EBU proposition work overall."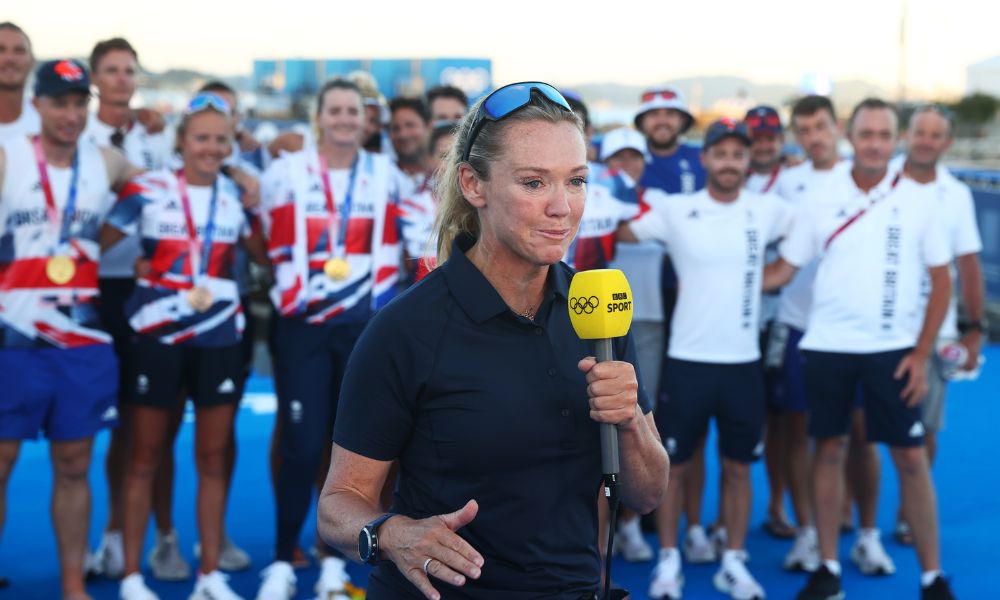 The BBC's coverage of the Olympics has been criticised for being too limited
---
Is there scope for PSBs to strike further sublicensing deals with WBD?
It's unlikely. While Killane says the EBU wouldn't interfere in any potential discussions between the BBC and WBD, he also questions the need for such deals to be made.
"My question would be, is it absolutely necessary?," he asks. "You have to also look at it from the WBD point of view, who are our partners in this, they need to have something to try and make this deal worthwhile. There's a balance to be struck here."
Asked a similar question, Georgiou emphasises that the value for WBD is in the certainty it is able to provide Discovery+ subscribers in being able to find their preferred sport.
"The challenge with a public sector broadcaster," he begins, "is that they curate something for the audience, but the audience doesn't know what they're about to get. But with us, they don't have to be in the dark.
"That's why we think this partnership really works, as the public sector broadcasters can choose and curate what they think is most interesting to an audience.
"For us that is the real interesting part of the proposition."
---