How and when competitive sport should be allowed to return is a question that has weighed heavily on every league and governing body battling the effects of Covid-19. While some have managed to find a way to finish their suspended seasons, many saw no other choice but to apply the brakes and to start rebuilding.
No mainstream sport has been immune to the coronavirus – although some have had to endure heightened levels of uncertainty. For those that have made a return behind closed doors, connecting with fans in their homes has become the priority, with digital media playing a more significant role in keeping them engaged.
The same can be said for the competitions still sidelined. But while audience attention has proven more difficult to achieve during the absence of live action, some have seen an opportunity to enhance their digital assets in order to better understand the fan and, specifically, what piques their interest when competition is in limbo.
Not only does this present opportunities for sports teams to build relationships with paying consumers, and to continue to market their brand during the shutdown, but it is also helping to fine-tune return-to-play protocols and assess fan appetite to attend events once again.
In the US, the return of the National Basketball Association (NBA) inside the "Disney bubble" harbours some hope that the US sports industry is taking positive strides in its recovery. Nevertheless, basketball has taken a far more conservative approach on the other side of the Atlantic.
By comparison, Europe's elite, multinational EuroLeague club competition was among the sport's major properties to bite the bullet. In late May, executives at the league decided to cancel the suspended 2019/20 season and reset in time for a new campaign, scheduled to begin on 1st October. That decision left the competition and its 18 clubs facing financial turmoil, with the EuroLeague announcing in June that overall revenues had dropped some 30 per cent from pre-season forecasts as a result of the early termination.
With all stakeholders feeling the pinch, EuroLeague executives soon decided that now is the right time to accelerate their digital roadmap, and in early July the league set up a collective digital transformation fund (DTF) to support its clubs during the enforced timeout.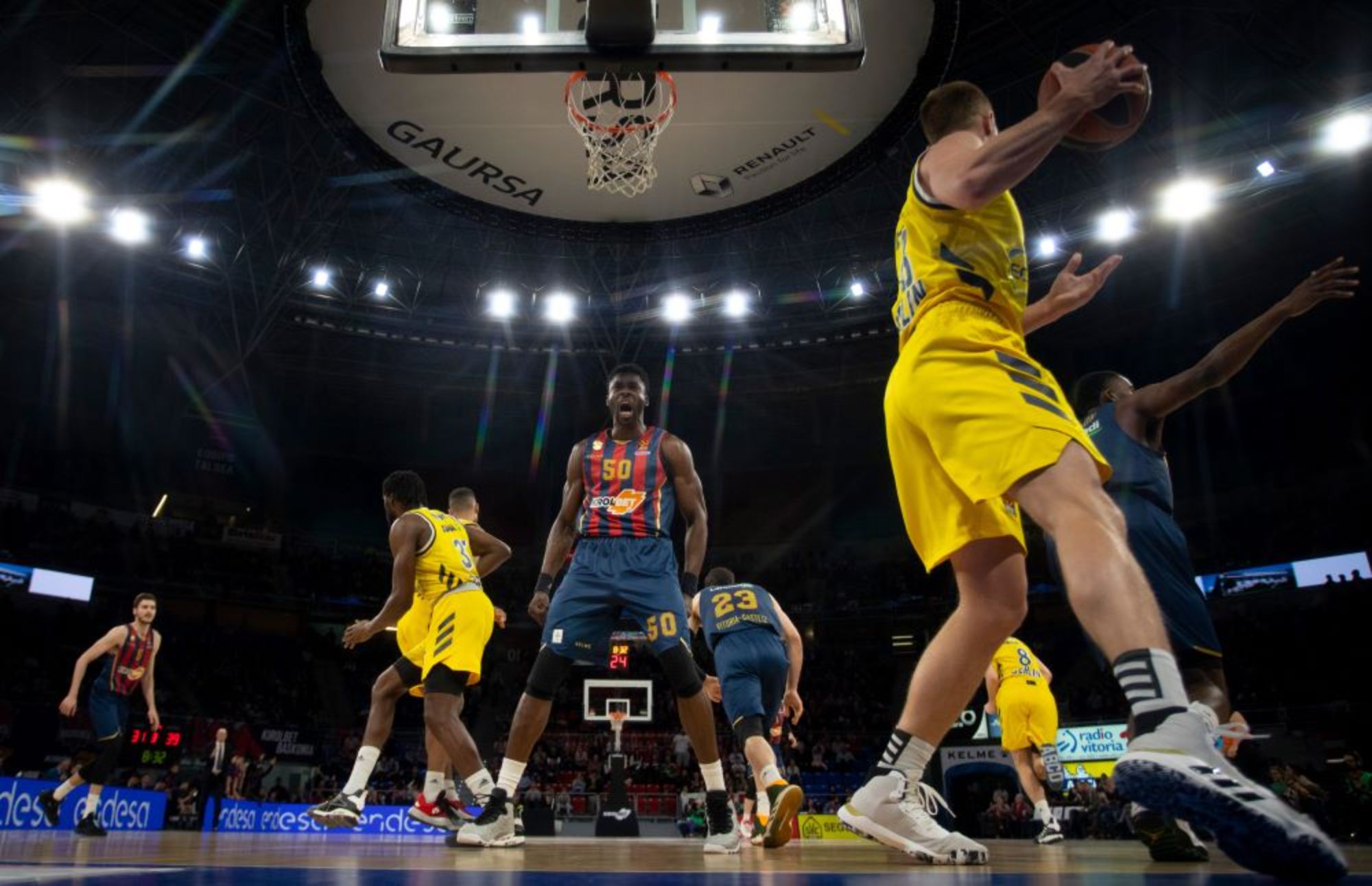 Almost seven months after postponing matches in March, EuroLeague scheduled to return for the 2020/21 season on 1st October
Though the DTF is ostensibly a new initiative, technology adoption has been on EuroLeague Basketball's radar for some time – and is exemplified by its Tech Challenge, which invites startups to pitch innovations applicable to the sports industry. But as the league considers ways to improve the stability of its clubs and commercial assets in the wake of the coronavirus, including the possibility for new player salary regulations based on net basketball-related revenues, investing in club digital strategies could prove to be just as important.
"We've always been looking at what we can do for our fans and gaining as much information about the fans as we can," explains Roser Queraltó, EuroLeague Basketball's chief business development officer. "By adopting the latest innovations on the market – including data analysis, technology capabilities, and monetisation – this is what will guarantee that the clubs have the best tools to do that."
With funding in place for the next two years, the DTF initiative has been adopted by 12 of the EuroLeague's 13 licensed teams, including two playing under provisional licenses, Lyon-based Asvel Basket and FC Bayern Munich. Upon launch, only one undisclosed outfit opted out.
The DTF builds on the work of Euroleague Basketball's Business Operations & Club Services (BOCS) department, which was launched in 2017 to encourage teams to share best practices in order to maximise revenues. As part of the initiative, the league has partnered with data consultancy firm N3XT Sports to help guide and inform its clubs' digital upgrades. Each of the 12 teams involved will be allocated an equal share of funding, which will be distributed in two instalments following an initial "monitoring phase".
"We have a pot [of money] that was decided on and will be distributed to the teams for a particular project," Queraltó continues. "We wanted the clubs to focus specifically on that [digital] piece of their business and ensure that the fans had a destination [to engage with the teams] across the league."
Covid-19 happened in a critical moment for our development, and at the same time we're looking at how this 'new normal' can help us

Roser Queraltó, EuroLeague Basketball's chief business development officer
Although the pandemic could not have been foreseen, the EuroLeague had been enjoying marked audience growth during its 20th season, which was also its fifth year since signing a strategic, ten-year partnership with global sports marketing agency IMG.
According to data provided by Nielsen, the competition attracted an average 15 per cent annual increase in fan interest across its team markets during the latest instalment, including 41 per cent growth in France largely due to Asvel Basket making their EuroLeague debut.
Year-on-year TV viewership in France climbed by 6,634 per cent, while Italy (184 per cent), Israel (144 per cent) and Germany (64 per cent) also saw viewership gains. In Spain, which is home to four of the EuroLeague's 18 teams, a broadcast deal with the DAZN streaming platform saw the league attract 81 per cent more viewers compared to the 2018/19 season, including higher per-game averages.
Those figures augur well for the long-term future of the EuroLeague, even if clubs across its top two competitions, including the second-tier EuroCup, saw their centrally distributed revenues reduce by 14 per cent this year. Indeed, it is hoped the DTF will lay the groundwork for a return to growth by giving EuroLeague teams an incentive to grow their digital presence and consolidate data streams in a way that will aim to put fans front and centre.
"It's not going to present an immediate financial impact for our clubs," Queraltó continues. "We're looking at it more as a way to support the clubs to modernise and improve their digital systems so that they are better prepared to make decisions.
"Covid-19 happened in a critical moment for our development, and at the same time we're looking at how this 'new normal' can help us.
"For example, how do we make sure we offer the fans – whenever they are ready to return to the arenas – new opportunities to enjoy the games? How do we adapt our offering to the new realities, and to transform not only the league itself, but also the clubs?"
Jordi Bertomeu, EuroLeague Basketball's chief executive, moved to cancel the 2019/20 season in late May
It was during a visit to the EuroLeague's headquarters in Barcelona in July last year when Mounir Zok, N3XT Sports' chief executive, first broached the subject of creating the DTF. He was invited to give a keynote speech during the annual EuroLeague Business Summit on the roles of consumer data gathering and artificial intelligence (AI), and didn't take long to convince the league's representatives of its benefits.
"The coronavirus pandemic has brought about a new variable that the sports industry hasn't had to deal with in the past – and that is the lack of physical events," Zok tells SportsPro. "We found that only the companies that have invested previously on their digital and data efforts – and have a proper working infrastructure – were capable of maintaining the relationship with their fans, communications with all of their stakeholders, and to quickly bring value to their partners and sponsors.
"We're looking at different areas within the clubs, from customer relationship management (CRM) to venue management, to data collection, innovation, ticketing, and so on. We have also worked very closely with EuroLeague Basketball to fine-tune some of the details around the fund and developed some of the criteria that the clubs will take into account and keep in mind when they put forward their applications.
"All the clubs have their own digital and data needs. Our role is first and foremost to do a diagnostics and evaluation on what is the best step forward and evaluate and monitor what each of the club's progress will be, and then decide when the club's funds should be deployed and how clubs are improving their operations through digital and data."
A large portion of the EuroLeague field falls under the auspices of historic multi-sport clubs that also comprise elite soccer teams, such as Real Madrid, FC Barcelona, FC Bayern Munich and CSKA Moscow. For Zok, those clubs with a presence in multiple sports have an opportunity to create a "360-degree view" of their entire fan ecosystem and to "cross-pollinate" learnings from each of their teams' digital activations.
The capability of an organisation to properly segment and filter its database will help it generate better results

Mounir Zok, N3XT Sports chief executive
"No matter where your data is coming from, you need to be able to consolidate it and, in many cases, when we work with our clients, we find that they have lots of data points that are sitting in isolated stacks," he continues. "If someone purchases a ticket, or buys a t-shirt, or has just subscribed to an OTT platform, there are usually three different entries into a database.
"The capability of an organisation to properly segment and filter its database will help it generate better results. We found the clubs to be evenly spread, which presents a massive opportunity for EuroLeague Basketball to step in and really contribute to bringing the clubs that are on the lower side of digital-data acumen [up to speed] and to quickly accelerate their learnings.
"Independent to whether there's a pandemic or not, we strongly believe, as a company, that understanding who your stakeholders are, in general, gives you the capability of providing a better service. In the sports industry, we're about to discover this and, in some cases, we have organisations that are doing an amazing job at this, and others less so."
There are several key areas where the EuroLeague's clubs may well look to adapt. While digital upgrades will likely include more customer-facing features for third-party sponsors – covering merchandise, food and beverage, and ticket sales – the role of the mobile app, more critically, could help teams to offer fans a "touchless experience" when welcomed back into arenas.
Some domestic competitions have been allowed to resume in EuroLeague markets without fans. On 28th July, for example, the final rounds of the Israeli Basketball Premier League saw Maccabi Tel Aviv defeat rivals Maccabi Rishon LeZion to secure their 54th title in the competition's 67-year history.
With the focus now turning to the EuroLeague's planned resumption in two months' time, the six-time EuroLeague champions are also looking at ways of building out their own CRM system, as well as assessing how their relatively new mobile app, launched 18 months ago, can help the club achieve a deeper understanding of their fanbase during these uncertain times.
---
Daniel Shahak, Maccabi Tel Aviv's head of digital, says that the creation of an integrated "digital wallet" for fans will not only improve the fan experience when allowed back into their Menora Mivtachim Arena, but will also help the club to garner valuable data to create a "much broader interface with the fan" and scale new revenue opportunities across its digital ecosystem.
"All leading businesses today, including sports clubs, understand that data, and the correct use of data, is the future in terms of bigger revenues, greater engagement, and building a greater community around the sport," Shahak explains.
"However, a lot of the economic models used in Europe are based on models that are used in American sports. For example, fans [in the US] might pay money on a digital league pass, whereas European consumers think a bit differently. The collaboration and cooperation between the EuroLeague and the different clubs can help bridge over these gaps and can help us to achieve economic models that are suitable to the European consumer.
"I think we're just in the beginning. There is almost no major club today that has a [fully] functioning sports-related CRM system. This is something that we have been working on over the past year, but we're looking to make it even more efficient than we planned before, in order to know who is each fan."
To help with that evolution, the Israeli club is working with global digital engagement specialist Pico, whose client portfolio includes other high-profile sports properties such as the NBA's Los Angeles Clippers and Philadelphia 76ers, the National Hockey League's (NHL) St Louis Blues and New Jersey Devils, and the EuroLeague's FC Bayern Munich.
According to Yaron Talpaz, Pico's vice president for strategic partnerships, identifying "anonymous fans" across various digital assets is key. He believes more sports teams are beginning to see the value of data in building out their CRM and will only become more evident as teams are forced to adapt the fan experience in the wake of the coronavirus.
Roser Queraltó, EuroLeague Basketball's chief business development officer
"When you know the fan, the messaging [you send to them] becomes different around the world," Talpaz says. "The global impact Covid has had on sports teams, and especially those not yet thinking about data, has made them understand that they can no longer be an offline entity.
"Maccabi has been on this subject for years and was among one of the first leaders in the EuroLeague. By using a system like Pico, they are able to use that segmented data to help increase their sales around merchandise, sponsorship and ticketing."
On 17th July, EuroLeague Basketball and its clubs agreed on a unified set of guidelines in response to the pandemic, created specifically to inform fans on how they can return to matches when a ban on spectators is lifted, and the steps the league body is taking to do so as safely as possible.
As part of the wide-ranging document, protocols include staggered arena entries, temperature checks upon entry, socially distanced seating, and flexibility to use 'customisable payment methods', including platforms for ticketless admission and cashless transactions.
Looking ahead to its resumption on 1st October, Queraltó says the EuroLeague has everything in place for a return to play in 15 markets, though she warns the league could just as easily postpone again if circumstances call for it.
"Those are the plans but we also have to look at the reality we're living in, so if we need to reschedule we will have to," she says. "In Lithuania, people are able to go back to arenas, though other places will take longer.
"Fortunately, we know there will be a path we're able to follow and adapt to the local law guidelines. It will be much quicker and more trustworthy [for fans] to feel safe, which is very important to all of us.
"The main goal is to be fan-facing. This includes a deep knowledge about our fans and properties. Things are changing, fans are evolving, so the idea is that we get to know what the fans want and to approach any decision-making, not only based on the sports industry movement, but specifically to the ones of basketball."
….
---