Antony Arena, chief executive of Aura, has a nice anecdote to explain the platform: "I was chatting to a global chief technology officer at one of the big streaming companies, and quite often people can't really work out exactly how we've done what we've done.
"He said to me: 'I can't work out how you've done some of these things. We tried to build interactive features into the streaming platform, and we just couldn't get it to work.' My honest reaction was: 'We didn't build a streaming platform to have interactive features, we built a video game that could stream content.'
"I could just see in that moment, his face kind of dropped a bit. He didn't say it, but I know he was thinking: 'Shit, we have to start again.'"
Arena clearly thinks he is on to a winner with Aura and it is not hard to see why. The Australian immersive technology company's next generation broadcast-centric platform could come to redefine the way content is delivered and consumed.
---
Aura, which now operates across mobile, web and several connected TV standards, is incredibly flexible with a host of options that can be plugged in. Individually the features sound familiar: video streaming, feed selection, betting, ecommerce, chat functionality and watch together are all elements that have been seen before.
What makes Aura different is the engineering. Its interface is completely interactive, like a computer game, allowing for users to easily switch between its various engagement options without, for example, losing the live feed. It provides a second screen within the first screen and thus makes users more likely to stay on the platform longer.
To understand Aura better, however, it is important to get some historical context on its development. The platform was born out of Aura's sister business, the Unbnd digital agency, when Arena got bored by "sitting in meetings talking about click through rates" and decided to pivot the business. He flew to Los Angeles in 2015 and set up meetings with some of the more cutting-edge tech firms to find out what the next big thing was going to be. It became clear through conversations with the likes of Google and YouTube that virtual reality (VR) was considered 'it' at the time.
While Arena was sceptical about VR, the idea of creating media that moved away from passive viewing to "doing experiences" became core to Unbnd's ideology. Having created "some really interactive experiences" for clients, focus shifted on how to distribute those at mass scale.
"So I started looking for immersive content distribution platforms that could do that," says Arena. "I found four companies in the US that had all built their tech on 360 degree video. I flew over, I met with them, and I remember thinking: 'I don't think they're going to survive. I don't think they've nailed it yet.'
"It's not that they weren't really good and clever people working there. I just think the tech was not advanced enough to deliver on the promise of VR at that point. You can see where it is now. It's taken off in video games, but not really from a content perspective and I don't think that's going to change."
Unbnd, with the help of some funding from an Australian media company, then set about building its own platform, even acquiring some rights to work with. Then a partnership with the National Basketball Association (NBA) on VR integrations highlighted the need for Unbnd to pursue a slightly different path.
"We visited the NBA's VR partner, it was a really cool setup, people were running around everywhere, and I said to them: 'How many games can you guys produce?' And they said: 'We can do one game every ten days.'
"I just remember thinking: 'How on earth do we commercialise it?' That was for the NBA, there's like 50 to 60 games every ten days and they had the capability to do one. No hardcore fan is going to get into that, there's just not enough content there. So I remember thinking, whatever we do in our platform, we need to be able to ingest a 2D feed."
Arena wanted a product that could scale and ultimately Unbnd decided that VR was not it, determining that a gaming-based mobile platform was the way to go. Aura is using Unity, but Unbnd is assessing whether or not to build its own gaming engine as Arena says the current one is "probably overkill".
If you want interactivity and engagement in a platform, then you had to build it out of the game engine. That's where we started from.
"You had a choice of doing 360 degree video, or building on a video game engine, that was the very first decision I ever made to do with it," he explains.
"If you want interactivity and engagement in a platform, then you had to build it out of the game engine. That's where we started from.
"So there's some things that we can build out to enhance the experience, but also lighten the load on the devices. It can be pretty heavy from time to time.
"We had always thought that if we want to be different to everything out there, that initial choice was we go the video route, or we go the gaming side of things. All the core engineering team were building video games at the beginning."
He adds: "Where we are now is in the second generation and it's getting really, really sophisticated. What we have created here is an aggregator of content and data to one environment that creates the utmost engagement and interactivity."
Changing how you watch
Erik Bernacchi is Aura's design director for immersive technologies. An Italian who trained in design in Milan, he moved to Australia in 2013 and begun working more with digital agencies before joining Aura full time in December last year. With a background in VR and creating experiences, Bernacchi says Aura is not just different in terms of design but also, crucially, its approach to content.
Bernacchi says that the platform has the ability to integrate experiences like VR or augmented reality (AR) – or other interactivity such as chat – with live content "quite easily". When it comes to sports, the use cases the Aura team has been focusing on are all about creating engagement.
"So the way we watch sports right now, for example with Kayo or Optus Sports – these are the available streaming platforms for sports, the biggest ones in Australia – you get two apps that give you live broadcasts, and maybe some data but not the [same] amount of interaction," says Bernacchi.
"In Aura you can seamlessly switch camera angles, and at the same time view a 3D visualisation of the track, court, field or pitch, depending on the sport we are talking about. Motorsport, for example, we could have on the side of the live broadcast a 3D visualisation of the track where you can double tap and see the live position over the cars.
"You can double tap on the car to get more information about the car, to get live stats about the engine, about the driver, you can jump into the driver's information while you're watching the race, to learn more about the driver, you can purchase merchandise while you're watching them, and you can decide to actually enter the driver view. You can have many broadcasts. On one side driver view, on the other side you can double tap to interact with other currently available driver cams, but in this way, you never actually leave the action."
Aura is working on software development kits (SDKs) currently that will reduce the technological heavy lifting to create new elements. For example, a plugin that allows the mobile app on the same network as the smart TV app to push content to the bigger screen, while running an interactive experience on the smaller device.
"I think we're at the tip of the iceberg," adds Arena. "We can do some really, really amazing stuff. Some of the new features we built in during Covid are viewing parties, social integration and curation.
"What we're able to do from an ecommerce perspective is, candidly, lightyears ahead of anyone else.
"We've taken it from being a pure mobile play, to running it on the web, both desktop and mobile, and then more recently on to connected TV. We've a little bit of work to do there, because it's a bunch of different standards. But the early tests that we've done on Android TV in particular, is working really, really well. We kind of feel like we're sitting on the future of interactive entertainment as a broad platform."
Bridging the generation gap
Arena is predicting Aura will be at the forefront of a "big shift in the landscape" of the sports media space in the next few years. He believes sports broadcasters and rights holders have got a major Gen Z issue that his platform can help solve.
It is no secret that younger audiences are not engaging with sport in the same way as the generations before them. A Morning Consult poll in September 2020 found that Americans aged between 13 and 23 are less likely than the general population to identify as sports fans. Of those 1,000 people surveyed in the Gen Z age bracket, just 53 per cent considered themselves sports fans, compared with 63 per cent of American adults generally and 69 per cent of millennials.
"These kids don't want to sit around and watch games for two hours, three hours, four hours, they want the condensed version, they want the gamified experience," Arena says. "That's something that we do. We make it a very sticky environment.
"You have to think about it in a way of this generation have grown up with having full control over whatever they want, whenever they want.
"I put on free to air for my kids, my oldest is ten, and the ads come on and he's like: 'What is this, fast forward it, just go to the show.'
"They've grown up with Netflix, and with Disney+, and with all this other stuff. It's what I want, when I want it."
---
The monetisation opportunity
One of Arena's major lessons from Unbnd's work with the NBA was that the major rights holders see themselves less in competition with each other and more as being up against the likes of Netflix in the entertainment space.
With the sports industry needing to push the boundaries of content delivery in order to keep up with other forms of entertainment, Aura is being positioned as a tool which provides the actionable data of streaming with flexible features that deliver actual revenue.
Part of Aura's strength is in the monetisable elements that are familiar to those in Gen Z. There are Twitch-style features being worked on for the platform that allow hosts to take control of live feeds and use interactive tools to engage with viewers. A more scaled-back option is having mini-games that can be plugged into the platform which brands can use as activations.
"[Rights holders] can be the master of their own destiny," says Arena. "We can run out a whole bunch of different advertising and sponsorship formats. Ecommerce, whether that be for themselves, ticketing, it could be merch, or it could be on behalf of their brand partners. Then through things like NFT creation, and creating a live marketplace.
"Then of course, you know, the number one thing on every rights owner's lips is betting – in every market. There's some very innovative tech that we are creating right now that will change the game for betting. We've created a mechanism for collecting real-time data on the emotional reaction to live events, for example."
Aura is on the radar of a couple of major US gambling firms who are enticed by the platform's interactivity, engagement capability and dynamic interface that allows seamless switching between feeds. Aura does not have a betting licence so any work in that department would need to be with a partner. However, Aura is able to aggregate data from multiple sources and allow it to work together on one platform. That user experience, coupled with actionable data to create push notifications, is a heady mix that would seemingly be gold dust for the gambling industry.
"So right now, there's some limits to what can be offered to audiences engaging in betting. What we're offering, is an ability to expand the markets quite dramatically but allowing users to access and consume real-time data like never before. We can deliver these micro betting moments pretty quickly and easily."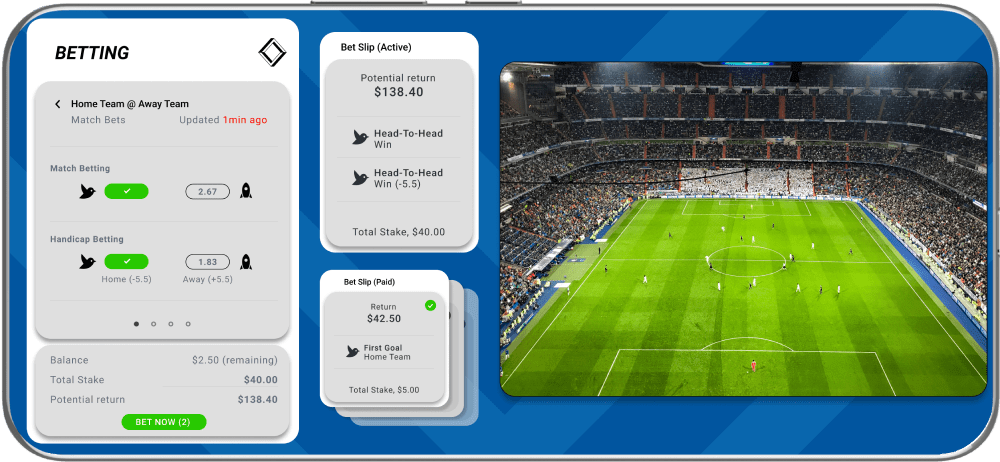 Perhaps the most impressive sounding development with Aura is its non-fungible token (NFT) integration. The Aura team is beta testing features that will not only offer a marketplace for digital collectibles, but also allow rights holders to use the platform directly in the creation process. As previously mentioned, using a mechanism that allows fans to provide emotional context to a highlight moment, Aura will be able to automatically collect the sentiment and turn it into a NFT using Ethereum blockchain technology. In addition, the platform will be able to use that emotional reaction to set a live market price for that NFT. The idea is to bring forward the secondary market step of the sales process as the fan has already told the rights holder what moment they think is the most exciting.
The smart thing about this particular social listening feature is that it has use cases beyond just the creation of NFTs and betting. The same AI module can listen to commentators, crowd noise and match stats to figure out which player fans are getting behind the most in a match, then bring up their stats or related merchandise to sell. One market test using this system saw the platform record a sale every 22 seconds.
"Right now, when I watch a game on TV," begins Arena, "and I can guarantee if I'm doing it, everyone else is. I'm constantly on other devices interacting with complementary data or content, checking out the stats, or looking at the betting odds, or the player shoes, or whatever it might be. So, for the advertisers on TV, that's got to be a frustration because they're paying top dollar to be there and they know the eyeballs are moving, but right now they go: 'Well, what else do we try and do?' They can guess where fans might be to follow up.
"We wanted to build something where we could bring all of the content and data together because that's also a frustration for the user. Like, it annoys me that I'll be watching an NBA game on TV, but I can't really engage with the stats and see how good this guy looks as he's playing really well. I have to get on my phone, and I've got to look it up manually.
"We want to deliver everything in that one space and then, again, monetise that in whatever way we can."
The Aura model
The most obvious use cases for Aura seem to be as a next generation streaming platform. However, the flexibility of Aura means it can be used for different kinds of products. There is interest outside of the sports industry in the platform's ability to harness and present content and data from proptech, fintech, music, as well as entertainment spaces.
Back in more familiar territory, a major US sports franchise is working on a 'digital seat' project that is about providing the live game experience to a fan at home. The idea is to use the retained rights to eight different camera streams running for up to two hours before the game to bring fans a multi-screen experience of the pre-match atmosphere.
Another opportunity is for Aura to be part of a connected stadium toolkit, allowing fans in the venue to utilise a 5G network to access live streams of camera angles they might not be able to get from their seat. Again, you can plug in ecommerce for merchandise purchase and collection, wayfinding, car parking, or even more advanced AR viewing experience additions.
Aura is currently talking to rights holders, broadcasters and telecommunications firms about the best route to take. It appears there is some trepidation in the industry over adopting Aura because it would mean taking a big step backward to take a leap forward.
Plenty of broadcasters and rights holders are still getting their heads around the capabilities of the first generation of streaming services, so the idea of altering course is challenging.
"Everyone says they want it, but it's a massive shift in their thinking: 'How difficult a path is this going to be to get this sold internally across, management, product, tech teams, media, sales etc?' But the way fans are changing how they are engaging, or more importantly not engaging, I think it's going to become a necessity very, very soon," says Arena.
We've built something special, and we're open to exploring all the available options to capitalise on that.
Bernacchi admits that the complexity of the platform and the dated approach of some in the sports broadcast space means that most partners would need assistance from the agency side, Unbnd, in integrating Aura into their systems.
"Some of the biggest challenges, with sport especially, is the infrastructure of the current way that products are built on are quite behind the state of technology," he says. "So, they actually struggle to implement and integrate these new web technologies. There is a lot of work and hand holding that needs to be done right now with these companies to help them integrate these new experiences."
There is hope that the SDKs will make things a bit easier with potential clients. Whilst the core platform is already built, Aura has to be customised for each project by the development team. That process allows clients to bring in different content and data, offers a different user interface or user experience, with the option to choose from a menu of around 30-odd modular features. The core elements utilise a suite of Amazon Web Services (AWS) cloud services, and the front end it is almost like building a mobile game. Aura can deliver the entire platform as a full stack or it can integrate some of those modules into existing tech stacks.
However, it is not beyond the realms of possibility that Aura decides that the challenges of selling a white label product is not worth the hassle. Aura has recently been approached by private equity with the plan of acquiring the rights to become its own direct-to-consumer platform.
"We've built something special, and we're open to exploring all the available options to capitalise on that," says Arena. "We're not really sure what the answer is yet. It probably depends on what happens over the next six to 12 months."
While the platform's future is yet to be decided, what is clear is that one way or another, Aura will have a major role in shaping how content is consumed.
---
To find out more visit www.thisisaura.com.
---