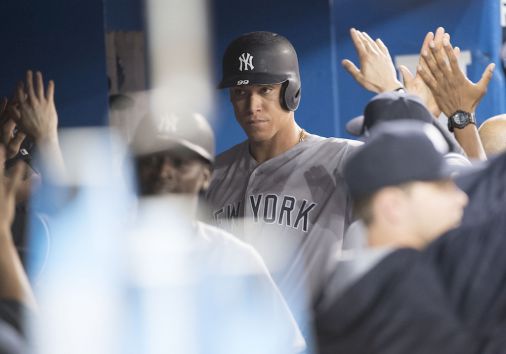 Rising baseball star Aaron Judge has become the latest high-profile athlete to sign an exclusive autograph deal with Fanatics.
The agreement means Fanatics Authentic, the e-commerce company's collectibles division, will be the exclusive distributor of authentic gear and other items signed by the New York Yankees rookie, 25.
Terms of the deal, which does not include game-worn memorabilia, have not been disclosed, but Judge's agent, David Matranga, told ESPN that it is a long-term agreement.
"Choosing the right memorabilia and collectibles partner was extremely important to me, and Fanatics was hands down the perfect fit and the company I trusted the most," Judge said in a statement.
"I've been very selective in the brands I've chosen to align myself with this year, and their track record of offering fans the widest assortment of high quality, officially licensed products was something that definitely felt like the right match for me."
Judge, who currently endorses Rawlings and Under Armour, has become one of the standout stars in Major League Baseball (MLB). His No. 99 jersey is among the top sellers on the league's online store, while one of his game-worn shirts recently sold for more than US$160,000 at auction.
A big-hitting slugger who won this year's Home Run Derby, he has set a Yankees record for the most home runs by a rookie, and he currently leads the American League with 35.
Other American sports stars who have autograph deals with Fanatics include Kris Bryant, Cody Bellinger, Aaron Rodgers and Matt Ryan.