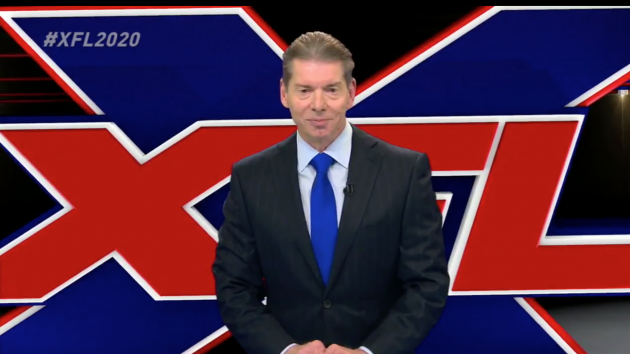 World Wrestling Entertainment (WWE) founder Vince McMahon has officially announced his intention to revive the XFL, the brand name of his controversial professional football league that ran for a single season before folding in 2001.
The league, which previously operated as a joint venture between WWE and broadcaster NBC, will relaunch in 2020 and feature an initial eight teams located in yet-to-be-determined markets spread across the United States.
The league will be operated by Alpha Entertainment, McMahon's personally-funded sports and entertainment investment venture that is separate from WWE. McMahon, WWE's chief executive and chairman, recently sold 3.34 million shares of the wrestling organisation's stock - totalling about US$100 million - in order to help finance the company.
As it stands, there is still much to be determined regarding XFL 2.0 - it is not yet clear how, where or by whom action from the league will be shown, for instance, although McMahon said on Thursday that content distribution will likely span both traditional and non-traditional media outlets.
McMahon also stressed the entertainment value and family-friendly aspects of the new XFL, and said his league will have "nothing to do with politics or social issues". He also said he would listen to football fans ahead of the league's launch, and would consider shortening games or reducing the number of commercial breaks during broadcasts.
"We're going to give the game of football back to fans," he added. "The new XFL will be fan-centric, with all of the things you like to see, and less of the things you don't."
According to McMahon, who will continue in his WWE roles once the league launches, the new XFL will "start conservatively" with eight teams that will consist of 40-player rosters and will compete in a ten-week regular season, held during the National Football League (NFL) off-season.
While precise details are scarce, McMahon said "experienced executives" will be hired to run the league, which will deploy a single-entity model, with McMahon himself owning the league and each of its teams.
Thursday's announcement ends mounting speculation over the XFL's rumoured revival. Last year reports emerged in the US that McMahon, 72, was considering bringing the league back, while Alpha Entertainment has recently been acquiring certain XFL trademarks previously owned by WWE.
A brunt of jokes ever since its rapid demise, the hurried-through first incarnation of the XFL was a loss-making enterprise for both WWE and NBC, whose involvement was spearheaded by former network executive Dick Ebersol. McMahon himself has since described the project, whose creation and swift demise was the subject of ESPN's acclaimed '30 for 30' documentary series, as a "colossal failure".
Despite initially garnering strong TV viewership, the controversial league was widely criticised for its quality of play, mid-season rule changes and apparent disregard for player safety, while there were widespread concerns over its brazen attitude and championing of adult themes including sex and violence.
At a media event held in New York to announce the original league's launch in February 2000, McMahon suggested the NFL had grown too soft and proclaimed that, by contrast, the XFL would "not be a league for panty waists or sissies".
The original XFL also comprised eight city-based teams, which were split across eastern and western divisions and carried macho monikers like Maniax, Rage, Hitmen and Xtreme. NBC's unease over the original league's divisive reputation and dwindling viewership prompted the network's decision to withdraw its backing for the project, which in turn spelled the end of the venture soon after.
Speaking on Thursday, McMahon said he had learned many lessons from the original XFL's collapse and that the coming two-year preparation period will give the new league a better shot at longevity. He also said the league will have no cheerleaders and that "the quality of the human being is going to be as important as the quality of the player" when it comes to roster selection.
WWE shares hit an all-time high of US$34 on Thursday following news of the XFL's forthcoming revival.