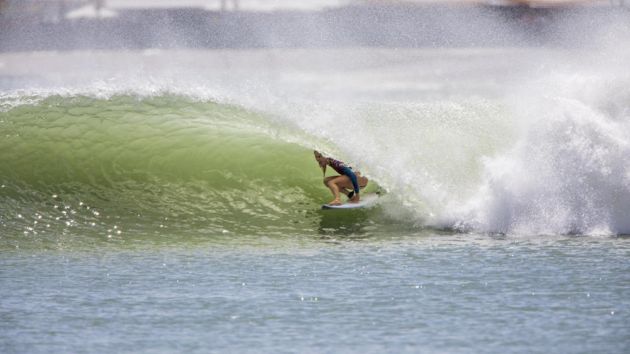 The World Surf League (WSL) has confirmed plans to stage a top-level Championship Tour event on manmade waves for the first time next year.
The proposed contest will be staged next September at the WSL Surf Ranch Facility, a state of the art wave pool created by the Kelly Slater Wave Company (KSWC) in Lemoore, California.
Confirmation that an official contest will be held at the ranch comes after the WSL staged a test event there in September, and ahead of the release of the tour's full 2018 schedule next week. It is not yet clear whether the event will feature both male and female competitors.
"Based on the results of our test event this year and the feedback from surfers training at the facility throughout the season, next September's event has the potential to be something special for both surfers and fans," said WSL chief executive Sophie Goldschmidt.
"We're only scratching the surface of how this technology can be applied and it is completely game-changing for the sport."
The KSWC, founded by 11-time world champion Kelly Slater, debuted its revolutionary wave pool technology, which can create a 400-yard-long, bi-directional wave, in December 2015. Since then, the technology has been refined, particularly since the WSL acquired the KSWC in May of last year.
Wave pool technology is seen by many as a major breakthrough in the global development of the sport of surfing, which will feature on the Olympic programme for the first time at Tokyo 2020.
While the WSL insists its primary home will always be in the ocean, it is anticipated that wave pools will open up new opportunities for the tour in terms of event presentation, broadcasting and sponsorship.
"It's incredible what the WSL and KSWC teams have developed at Surf Ranch over the past year and California's Central Valley now boasts a world-class wave," said Kieren Perrow, the WSL commissioner.
"This technology, and its ability to deliver high-quality waves at any location in the world, opens so many possibilities for how we can complement and evolve the competitive experience."