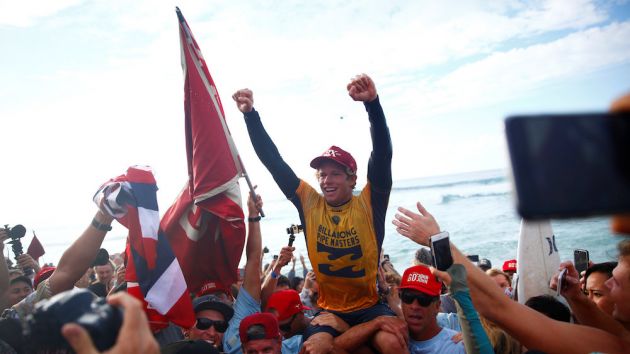 The World Surf League (WSL) has extended its worldwide streaming partnership with Facebook for a further two seasons.
The new deal sees the social media platform become the exclusive digital home for all major WSL events in 2018 and 2019.
Under the terms of the agreement, Facebook will stream action from all elite men's and women's Championship Tour events on a global basis, as well as Qualifying Series 10,000 and Big Wave Tour contests, and the World Junior Championships.
Facebook will also carry additional WSL shows and programming such as Surfing Sundays, which recaps each week's action, and other promotional content.
Financial terms have not been disclosed but, according to Forbes' Kurt Badenhausen, the new agreement is worth an estimated US$30 million, making it the largest deal in the history of the WSL.
The WSL first partnered with Facebook under a non-exclusive live rights agreement last March, a deal that saw many of the tour's top events simulcast on the platform alongside its own website and mobile app.
According to the WSL, more than 13.9 million people across the globe watched a tour event on Facebook last year, the majority tuning in from the United States, Brazil and Mexico.
"Facebook fosters a global community and, as surfing is a sport that celebrates and centres around community, we are proud to announce our media rights partnership with the platform," Sophie Goldschmidt, the WSL's chief executive, said in a statement.
"This is game-changing for the sport in many ways and, with current and new fans front of mind, we can retain the free offering to fans, and it allows us to deliver the world's best surfing to even more people on Facebook's platform."
News of the renewal follows last year's launch of Facebook Watch, the platform's new video service for users in the US, and comes with the company reportedly set to hire Eurosport chief executive Peter Hutton as its global head of live sport.
"We're thrilled to become the exclusive home of the World Surf League's live events for the next two years," said Dan Reed, Facebook's head of global sports partnerships.
"This is a natural next step in our terrific partnership, which has steadily progressed over the years as the league has expertly used Facebook to distribute content and build community."
This year's men's and women's elite WSL Championship Tour seasons both get underway on 11th March in Gold Coast, Australia.