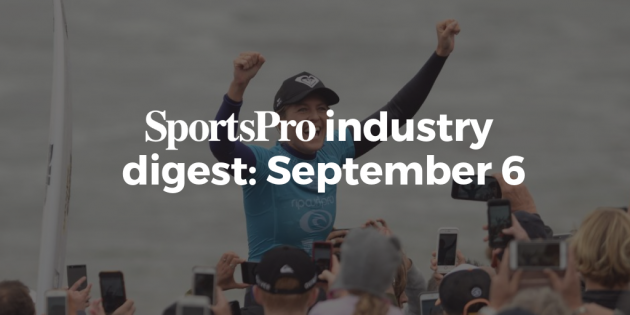 Top Story
The World Surf League (WSL) has announced that it will award equal prize money to male and female athletes in its events from 2019. It is thought to be the first US-based sports league to award equal prize money.
The WSL also announced a number of initiatives are to launch in support of women's surfing next year as the sport prepares for its inclusion in the 2020 Olympic Games.
Chief executive Sophie Goldschmidt said: "This is a huge step forward in our long-planned strategy to elevate women's surfing and we are thrilled to make this commitment as we reveal our new 2019 schedule.
"This is the latest in a series of actions the League has undertaken to showcase our female athletes, from competing on the same quality waves as the men, to better locations, and increased investment and support.
"This change is simply the right thing to do for the WSL."
The announcement was released alongside the WSL's 2019 schedule, with the men's and women's Championship Tours beginning in April next year.
Sponsorship
England Rugby have signed a partnership deal with drinks brand Fuzion 100, which becomes their official sports drink and rehydration partner.
The Ultimate Fighting Championship (UFC) has signed an agreement with Blackheart Premium Spiced Rum, which becomes the organisation's official rum.
English cricket Test venue Edgbaston Stadium has extended its commercial partnership with Birmingham Airport for a further year. The ground will host five games at next year's World Cup.
MotoE has signed a deal with insurance company Allianz until 2021 as it becomes the official insurance partner of the series.
Emirates Holidays has been named as the official tour operator of the AFC Asian Cup 2019, which takes place in January in the United Arab Emirates.
Television manufacturer Samsung has launched a La Liga app for their Smart TV, giving fans a wide range of content from Spanish soccer's top two divisions.
Citigold Wealth Management has been named as the title partner of the 2019 Canary Wharf Squash Classic, which takes place in March.
Media Rights
Television network Eurosport has partnered up with the International Judo Federation (IJF) to broadcast a mixture of live coverage and judo highlights in a three-year deal, in the lead-up to the 2020 Olympics.
US network Fox has secured a four-year rights deal to broadcast coverage of Premier Boxing Champions.
Network DirecTV has secured rights to broadcast coverage of Uefa international soccer in Latin America in a deal lasting until 2022.
Sony Pictures Networks India (SPN) has secured rights to broadcast coverage of the Uefa Nations League and Euro 2020 in India.
Channel 4 will broadcast live coverage on Ireland's rugby autumn internationals until 2022, starting with their games against Argentina, USA and New Zealand in November.
Personal Endorsement
Former Ultimate Fighting Championship (UFC) champion Jon Jones has signed an endorsement deal with supplement company GAT Sport.
SmartSeries
German soccer giants Bayern Munich have launched a partnership with Siemens in a deal where the technology group looks to measure the 'influence' of fans during games.
In esports, 21st Century Fox has invested US$100 million in social broadcasting platform Caffeine.
New esports company Grid has launched, which aims to become a data provider within the gaming industry by contextualising in-game events against historic data in real-time.
Investment
Bookmaker William Hill has agreed a 25-year partnership deal with US casino operator Eldorado, which gains US$50 million in William Hill stock and a 20 per cent stake in its US business.
Politics & Governance
In soccer, Brussels' Court of Appeal has decided that rulings by the Court of Arbitration for Sport (CAS) can no longer be used by governing bodies to sanction teams. According to Marca, CAS will 'no longer have the upper-hand on decisions concerning football issues'.
A Cairo court has upheld a US$2.6 million fine against Qatari broadcaster BeIN Sports in relation to 'alleged anti-competitive practices', in which they were accused of forcing subscribers to switch satellite operators in order to receive channels.
Mexican soccer club América have become the first from the country to open an office in the United States.
Our industry digest will update throughout the day as deals break so check back to make sure you do not miss a story