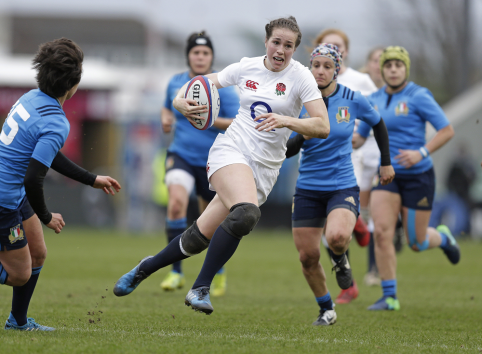 World Rugby has announced reforms to bring more women into decision-making roles from next year, as part of a strategy to further gender equality at all levels of the organisation.
In a unanimous decision, World Rugby will aim for at least a third of the members of the World Rugby council to be women, and the number of people permitted to be a part of the sport's decision-making body will be increased from 32 to 49, meaning that 17 women could be added.
The governance reform will allow the 11 rugby unions and six regional associations, which currently have an additional vote but no additional representative, an additional women's representative on the World Rugby Council.
The decision is part of the global rugby union governing body's 'strategy to accelerate women in rugby on and off the field of play and bring gender balance to the highest levels of its governance'.
Ada Milby, secretary general of the Philippine Rugby Football Union, became the first woman appointed under the reform when she was elected by Asia Rugby last weekend.
The council also approved the 2017-25 Women's Plan, an initiative to promote equal opportunities in performance, leadership and investment in rugby.
The plan aims to grow the game globally, seeking to encourage leadership on and off the field, grow participation and build high performance through quality competition, as well as to secure strategic, sustainable investment partnerships.
The Women's Plan and the governance reform proposal were both developed under the guidance of the Women's Advisory Committee, which was established in 2015.
The news comes as women's rugby enjoys growing success and attention. In the UK, the 2017 Women's Rugby World Cup was the first women's final to be shown on free-to-air TV in a prime time slot and netted a record audience for a women's rugby match with 2.6 million viewers.
Meanwhile, World Rugby figures show 2.4 million women and girls are playing rugby globally, an increase of 60 per cent since 2013.
"This is a major milestone in the progression and growth of World Rugby and the global game," said Bill Beaumont, chairman of World Rugby. "The reform is historic, reflective of our ambitions and long overdue. If we are to promote and nurture the growth of women in rugby then change must be led from the top.
"I would like to thank my council colleagues for their full commitment to this important reform and I look forward to welcoming their new representatives from rugby and beyond so that together we can work to further rugby worldwide. It is clearly a fantastic start and opens the door to even greater female representation in council and across rugby in the future."