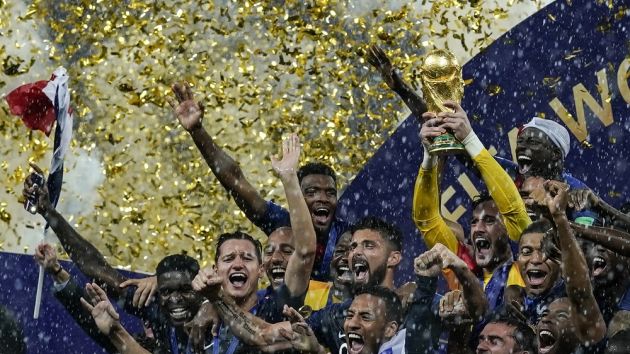 The 2018 Fifa World Cup was a "game-changing" moment for soccer in China, according to Hengming Yang, chief executive of Wanda Sports.
Wanda was the first Chinese brand to become one of Fifa's seven global partners alongside Adidas, McDonalds, Hyundai and Qatar Airlines, for the 2018 flagship soccer tournament.
The Chinese conglomerate was one of a number of Chinese sponsors at the summer competition, as well as smartphone giant Vivo, electronics brand Hisense, dairy company Mengniu, technology brand Luci and clothing manufacturer Diking. The presence of Asian companies at the World Cup filled some of the space occupied in the past by Western brands, who Fifa chief commercial officer Philippe Le Floc'h admitted had "maybe" been dissuaded by the corruption scandal centring around ex-Fifa president Sepp Blatter.
Le Floc'h said that there had been a "shift of world economy and some Asian companies are looking for the best vector of communication to push the drive to the world with a global footprint."
The 2018 World Cup proved a success with China, pulling in 100,000 Chinese tourists, while the country also recorded 14 of the top 20 largest TV audiences of the World Cup.
China's commitment to the World Cup, which is expected to add an extra US$835 million in advertising spend around the event, is seen as a result of the country's growing involvement in the game, driven by president Xi Jinping's ambitions to ensure China becomes a soccer superpower by 2050.
Yang told The Drum: "This World Cup has seen China and Chinese football fans embrace the tournament like never before.
"I think this will be a game-changing moment for the sport in China and it will start to embed a more engaged football culture within the country that will help football really develop from within, both at an elite and grass roots level.
"I think this has gone beyond a time when Chinese fans were just wanting to watch the big games and big players."
Yang added that Wanda's aim was to engage with Chinese audiences: "We have intentionally focused on driving the value from our partnership back to China through the launch, with Fifa, of new Fifa social channels earlier this year on Weibo and WeChat, as well as using our flag bearers initiative to inspire the next generation of footballers in the country.
"One of the primary reasons for us to sign the partnership with Fifa was to inspire the next generation of Chinese footballers. At the 2018 Fifa World Cup we have delivered exactly that, we have given 384 children between the ages of 12 and 17 the opportunity to step onto the pitch at the Fifa World Cup as a Wanda / Fifa Flagbearer."
Yang also said he believes the involvement of Chinese brands will help to drive interest and growth of soccer in China.