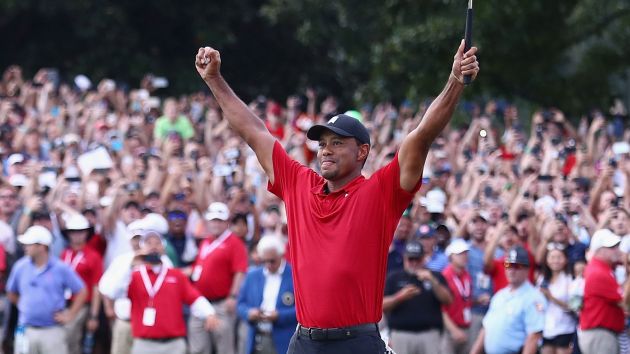 Tiger Woods' US$9 million winner-takes-all golf match against fellow American Phil Mickelson will not be open to fans, according to a report from daily newspaper the Las Vegas Review Journal.
'The Match', as the one-off event has been christened, will only see course access given to a small number of sponsors and VIPs. The public, meanwhile, will be left to watch the exhibition match, which takes place on 23rd November, Thanksgiving weekend, via a number of pay-per-view options.
WarnerMedia holds the media rights to what is thought to be the first televised pay-per-view golf product in US history.
AT&T-owned Turner Sports will produce all pre, post and live event coverage to distribute across its various verticals including the House of Highlights social media strand. HBO Sport's '24/7' reality programmes will also air shoulder content.
Match coverage to be available as a pay-per-view product on over-the-top (OTT) streaming service B/R Live and via sister network DirecTV. Turner Sports will also serve as the contest's exclusive sales and sponsorship partner.
Turner International will facilitate the global distribution of the event to provide pay-per-view access worldwide. The pricing structure of the live event has not yet been disclosed.
Taking place at the Shadow Creek course, owned by MGM Resorts International, it has also been revealed that no part of the round will take place under lights, contradicting speculation that had arisen through quotes from Mickelson – the world number 25 – back in August.
Then, he had told ESPN: "It's an opportunity for us to bring golf to the masses in prime time during a period where we don't have much going on in the world of golf."
The clash between two of America's most successful ever golfers was officially announced in August, when Woods tweeted: "It's on." Mickelson subsequently replied, joking: "I bet you think this is the easiest $9 million you will ever make."
Since that tweet, Mickelson has finished no higher than joint 12th in any event, including a tie for 58th at the BMW Championship. He also lost both of his matches at September's Ryder Cup, hitting his final shot of the competition into the water to hand Europe victory. His win at the Mexico Championship in March is his only win since claiming victory at the Open Championship in 2013.
Woods, meanwhile, clinched a landmark win at the Tour Championship in September. He, too, lost all of his match-ups at the Ryder Cup.