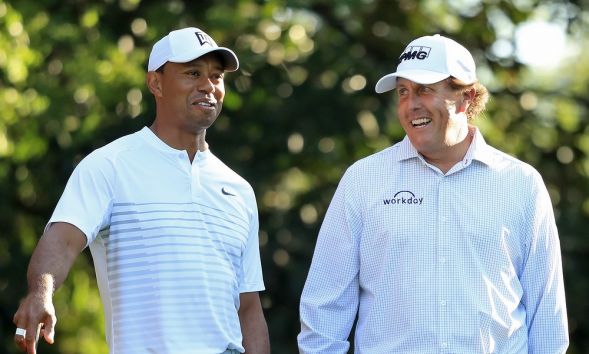 Phil Mickelson has confirmed reports that he and fellow American golfing great Tiger Woods are in talks over a potential US$10 million winner-take-all match.
The five-time major winner, 48, said that a report published last Friday by Golf.com was "accurate", but did not add further details regarding a date or location.
"The report was accurate, but I don't know what else to say," Mickelson told the Golf Channel on Sunday. "I'm sure as soon as we know more, we'll fill you in. But right now, I don't have much more to add to it."
Mickelson is said to have first broached the idea when he and Woods were paired together, along with Rickie Fowler, during the first two rounds of The Players Championship. Golf.com reported that the match was close to being agreed for 3rd July in Las Vegas, but the deal fell through because TV and corporate negotiations could not be completed in time.
"We're working on a different date," Mickelson was quoted as saying on Thursday. "I thought it was done for the 3rd but obviously it wasn't."
Woods and Mickelson rank first and second for career earnings in golf, with US$111.9m and US$87.6m respectively according to the PGA Tour website, but Mickelson added that the prospect of a US$10 million prize was enough to grab the attention of both players.
"It's a ridiculous amount of money," Mickelson added. "No matter how much money you have, this amount will take both of us out of our comfort zone."