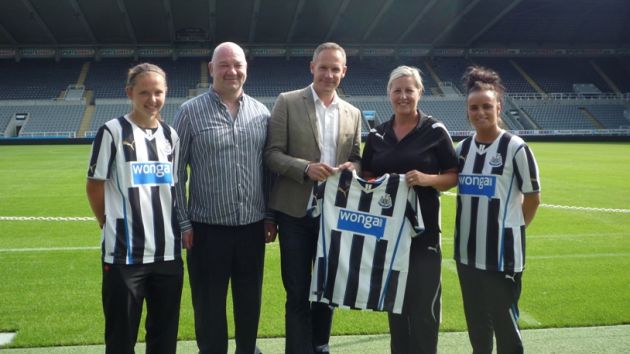 Short-term loan firm Wonga.com has become the principal sponsor of Newcastle United Women's Football Club (NUWFC) for the 2013/14 season.
Wonga, which agreed a four-year deal in October to sponsor Newcastle's men's team, will supply new home and away kits for NUWFC's first and reserve teams for the duration of the FA Women's Premier League season. It marks the first time a firm has sponsored both the men's and women's teams.
The deal was struck by former NUWFC chairman Phil Eadon, who recently stood down from the post after four years for medical reasons.
Eadon said: "It is with great pride that we have been able to conclude this agreement with Wonga whilst within my chairmanship of NUWFC. I would like to personally thank Wonga for having the vision and interest to support the NUWFC women's football team.
"Women's football is getting bigger every year. As more media coverage is achieved, more companies are taking interest and helping to support the development and growth of girls and women's football."
Darryl Bowman, the head of marketing at Wonga, added: "As a proud partner of the men's team, it made perfect sense for us to extend our support to the Newcastle United women's team. We're delighted to support the development of the women's game in the North East, and we'll be keenly following the team's progress throughout the new season."