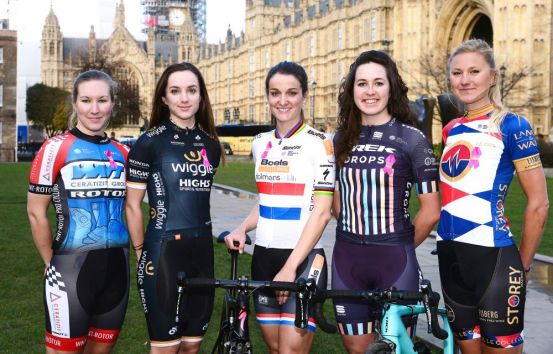 The 2018 OVO Energy Women's Tour and the men's OVO Energy Tour of Britain will offer equal prize money for the first time after the title sponsor announced its support for an increased funding at the official launch of the UCI Women's WorldTour event.
The Women's Tour organisers Sweetspot revealed the new prize money structure at a reception held inside the UK Houses of Parliament with the financial rewards for the female riders now identical to that of the men's Tour of Britain.
Stage by stage, jersey by jersey, the Women's Tour riders will receive exactly the same prize money. Every placing is matched pound for pound. The prize fund will be a total of €90,000 - up from €35,000, previously.
Both stage prize money and overall general classicisation will pay down to 20th place. There are four race jerseys up for grabs in the Tour of Britain and five in the Women's Tour. Each will command a €150 prize for the daily holder, and a €1,000 prize for the overall winner. Both the OVO Energy Women's Tour and OVO Energy Tour of Britain have a general classification prize fund of €36,220.
Lizzie Deignan, former road world champion and Women's Tour 2016 winner, said: "I'm so excited about the Women's Tour; the race is the pinnacle of women's professional road cycling in the UK, and it's an important step to offer equal prize money to the comparative men's race.
"To be honest, I wish gender parity wasn't an issue in cycling; I think I speak on behalf of most women in the peloton when I say I just want to get on and compete and be recognised fairly for what we do. So this support from OVO Energy means we can now focus on playing our part in an amazing race."
The 2018 OVO Energy Women's Tour, featuring 17 teams, will begin in East Anglia on 13th June, with five stages taking the race to Suffolk, Northamptonshire, Warwickshire and Worcestershire, before a final day's stage through the Snowdonia National Park and a first overall finish in Wales on 17th June.