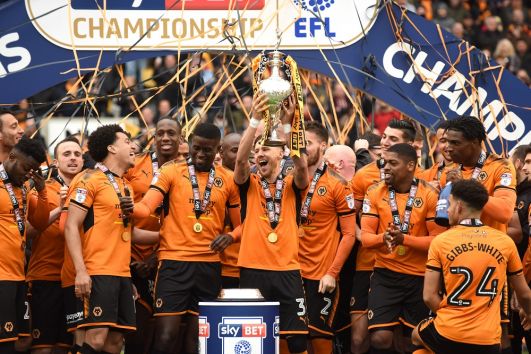 English soccer side Wolverhampton Wanderers, who will play in the Premier League next season, have announced a four-year partnership with Adidas.
The German sportswear manufacturer will serve as the club's official kit supplier from the 2018/19 season.
The deal will include the provision of both home and away kits, as well as training wear.
Adidas replaces rival German brand Puma, which has produced Wolves' kits for the last five seasons.
Lauri Dalrymple, managing director of Wolves, said: "This is a hugely significant partnership for the club as we look to not only take our brand of football into the Premier League, but also take the brand of Wolves to a global audience.
"We went through a stringent process to find the most suitable partner that shared our vision and could deliver on some of our key aspirations. Adidas is the biggest football brand on the planet. They have a quality and brand integrity that we knew would match our desire to reach fans in unchartered territories.
"However, most importantly perhaps for the team, Adidas will provide us with a kit that underpins high performance, and for supporters, provides us with a return to Wolves' classic old gold. We must also thank Puma for an excellent five seasons as our kit partner, in which time they have produced some of the most successful kits in the club's history."
Ashley Swain, director of clubs at Adidas UK, added: "After an incredible season and a well-deserved return to the top flight we're delighted to confirm a long-term partnership with Wolverhampton Wanderers. The club are looking to the future with big ambitions and we feel excited to be a part of their journey."
Wolves won the Championship title with two games to spare on 21st April with a 4-0 victory over Bolton, and will compete in the Premier League next season for the first time since 2012.