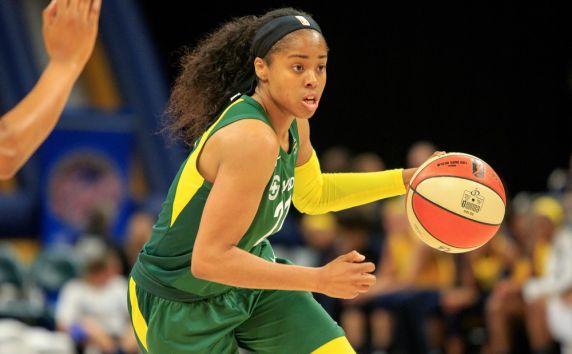 The Women's National Basketball Association (WNBA) has signed a league-wide footwear deal with Puma in what is the German sportswear giant's first partnership with a professional sports league.
The tie-up, which was announced over the weekend during the WNBA All-Star Game in Minneapolis, will allow Puma to use the North American league's trademarks and show WNBA players in its marketing campaigns.
"Puma not only has foresight, they are fearless trailblazers that walk the walk alongside their partners," said WNBA star Skylar Diggins-Smith, commenting on the agreement. "I'm proud to be part of a family and a brand that supports the WNBA and all the strength, independence, athleticism, individuality and feminism we represent."
The partnership, of which length and financial terms were not disclosed, marks Puma's latest push into basketball after nearly two decades of not being involved with the sport. In June, the company named American rapper Jay-Z as the creative director of its basketball operations, while it is also an official partner of The Basketball Tournament, a US$2 million winner-takes-all competition taking place this summer.
Puma has also recently signed individual endorsement deals with National Basketball Association (NBA) players including Deandre Ayton, Marvin Bagley III and Terry Rozier. The brand does not yet have a league-wide deal with the NBA, which counts Nike, Under Armour and Adidas among its apparel partners.
Elsewhere in the WNBA, the league has announced that its 2019 All-Star Game will take place at the Mandalay Bay Events Center in Las Vegas on 27th July next year. The move comes amidst the Las Vegas Aces' debut season in the WNBA following the team's move from San Antonio.