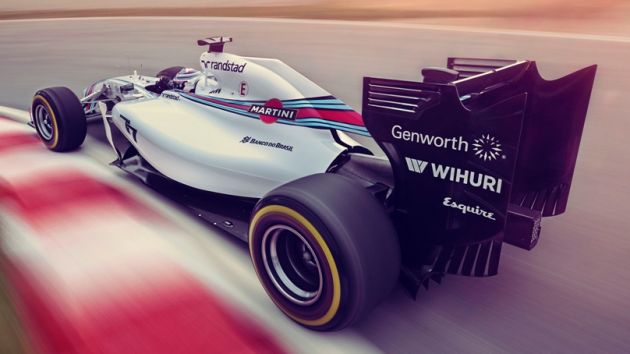 After weeks of speculation, the Williams Formula One team has confirmed a major sponsorship with drinks company Martini, unveiling a striking new livery at an event in London on Thursday.
The team will now be known as Williams Martini Racing.
A source told SportsPro the agreement is worth US$15 million annually, with Martini, which had initial discussions with other teams before opting for Williams, signed up for a five-year term.
"We are thrilled to welcome Martini to the Williams family and officially launch Williams Martini Racing," said Sir Frank Williams, the team principal and founder of Williams.
"Williams and Martini share a rich history in the world of motorsport, and the values of our two brands and our shared passion for racing make this partnership a natural fit. It will be great to see the distinctive stripes of Martini Racing return to Formula One once again in unison with Williams."
Martini was a major sponsor of the Brabham Formula One team between 1975 and 1977, before switching to Lotus for 1979. After a period as a sponsor in other forms of motorsport, the company re-entered Formula One in a smaller capacity with Ferrari in 2006, before departing again in 2008.
"The decision to partner with Williams was a natural one for us as it provides an unparalleled opportunity for the Martini brand to connect with consumers through one of their lifestyle passions, Formula One racing," said Andy Gibson, the chief marketing officer of Bacardi, Martini's parent company.
"Martini will give consumers a taste of life in the fast lane, bringing a renewed sense of Italian style and glamour to the track and beyond."
The deal was brokered by JMI, the motorsport agency run by Zak Brown which was acquired last year by Chime's CSM division.
Although not on a par with the kind of investment made by Formula One team title sponsors before 2008 - Vodafone's title deal with McLaren, which began in 2007 and ended last year, was worth US$75 million annually to the team, while financial services company ING were believed to be spending US$54 million per year to sponsor the Renault team between 2007 and 2009 - the US$15 million a year investment will form an important part of the Williams budget for 2014 and beyond.
Williams' last title sponsor was AT&T, which was a partner of the team between 2007 and 2011. BMW, a former engine supplier to the team, and tobacco brand Rothmans have previously filled the role.
Despite a dismal 2013 campaign, which saw the team finish ninth in the world championship, Williams' testing form over the winter suggests it will be amongst the front-running teams when the new season begins a week on Sunday in Australia.
Petrobras, Genworth and Banco do Brasil have all joined the team as commercial partners over the winter, along with what is believed to be a seven-year engine supply agreement with Mercedes. Long-time Ferrari driver Felipe Massa has also joined the team, along with a raft of new engineers and senior technical staff.