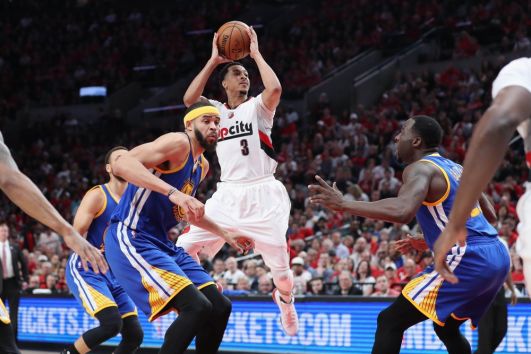 Basketball: National Basketball Association (NBA) player CJ McCollum has signed an endorsement deal with Chinese shoe brand Li-Ning. The 26-year-old Portland Trail Blazers shooting guard - previously with Nike - joins Dwyane Wade and teammate Evan Turner on the manufacturer's roster of NBA athletes.
More basketball: Euroleague Basketball, the governing body which organises continental club competitions in Europe, has named online sports platform Gazzetta.gr as its official premium media partner in Greece.
Cycling: The Amaury Sport Organisation (ASO) has confirmed a new partnership with the Turkish Cycling Federation. The event organiser, whose properties include the Tour de France, will distribute TV images and press releases from this year's edition of the Presidential Tour of Turkey, which is featuring on the UCI World Tour for the first time.
Motorsport: WeatherTech Racing will team up with Scuderia Corsa for the 2018 International Motor Sports Association (IMSA) season. The team will campaign in a Ferrari 488 GTE which will be driven by Cooper MacNeil.
Paralympics: The Swedish Paralympic Committee has penned a deal with Japanese car manufacturer Toyota until 2025. The eight-year initiative is geared towards improving the Scandinavian country's ability to compete in international para-sport events, including the Paralympic Games.
Sailing: English clothing brand Musto will be an official supplier of Team Brunel during the 2017/18 Volvo Ocean Race. The 13th edition of the round-the-world yacht race gets underway in Alicante, Spain on 22nd October.