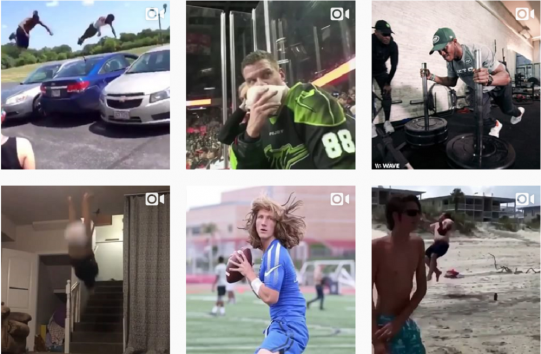 Wave has publicly launched with the bold claim of being the fourth-largest sports publisher on social media.
After operating in stealth for a year, the sports media company has announced that during the last 12 months, its various channels have gained 24 million followers, 725 million monthly content views and 50 million monthly engagements, placing it among the top four sports publishers behind Bleacher Report, ESPN and Barstool Sports.
Wave owns and operates a network of more than 100 social channels that cater to a variety of sports, teams, stars and trends. According to the company, its biggest Instagram channels, including WaveTV, Greatest Highlights, No Huddle, Best Goals, and Break Ankles Daily, have in excess of one million followers each.
Wave says it is seeing consistent growth across its entire network, with "hundreds of thousands of new followers" subscribing to its channels each month. These channels are maintained by dedicated sports fans as part of Wave's 'decentralised newsroom', which it says "ensures that the content is generated by the same types of personalities that Wave counts among its audience".
The company has raised US$3.3 million in funding from Sweet Capital, Golden Ventures, and investors Tom Williams and Larry Braitman, and was founded "on the belief that traditional sports media is ill-equipped for a world defined by sharing and two-way conversation". Consequently, Wave creates what it terms 'communities' where players, influences and fans share and create content.
"Existing media giants have been slow to shift their thinking and fully embrace new platforms -- and while they race to figure out their strategy, we've quietly built a network of properties that is formatted specifically for how Millennial and Gen Z audiences consume and discuss sports in the social era," said chief executive and co-founder Brian Verne.
"The sports world is changing, and nowhere as dramatically as sports media," added Olivier Gers, former chief executive of the International Association of Athletics Federations (IAAF) and early investor in Wave. "Fans now want to see every angle and understand every perspective in real-time. Wave delivers fans exactly the content they want on the platforms they already love; they're changing how we consume sports.