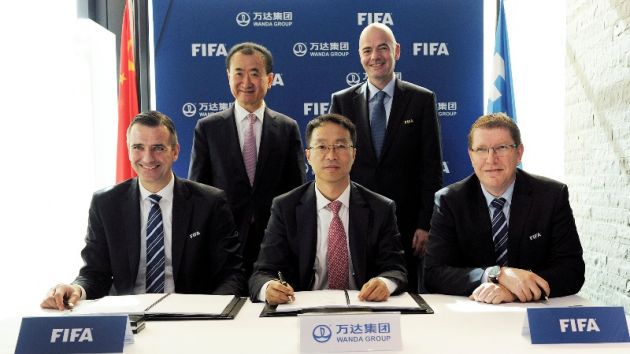 The Wanda Group has become a new Fifa partner, and is the first Chinese company in the top tier of sponsors for world soccer's governing body.
The deal will run for a 14-year term, covering all Fifa competitions up to and including the 2030 Fifa World Cup. Fifa partners are entitled to promote their association through branding and promotional activities in all territories around the world.
Wanda, which joins Adidas, Coca-Cola, Gazprom, Hyundai and Visa among Fifa's leading sponsors, will also support grassroots development of soccer in China and Asia.
No financial terms were released but the timing of the deal is welcome for Fifa. On Thursday it confirmed a US$122 million loss for 2015, its first financial shortfall since 2002. A decline in sponsorship revenues, with a number of partners choosing not to renew long-term partnerships, was one reason for the poor performance, along with one-off costs such as that of staging extraordinary sessions and US$61.5 million in legal costs in a year of corruption scandals.
"We are pleased to welcome the Wanda Group to FIFA. A company that has a long affiliation with football, has been an active supporter of the game for many years and shares our enthusiasm to develop and strengthen football," said Gianni Infantino, announcing the first sponsorship deal since his election as Fifa president on 26th February.
"As Fifa president, I am committed to providing stronger support for football development to our member associations, and I believe that the relationship with Wanda will support us to continue the on-going development and growth of the game in China and all over the world."
Wang Jianlin, the owner and chairman of the Wanda Group, added: "We are highly motivated to promote football across the country and to inspire a new generation of youngsters. The Chinese Government is committed to this development and as a company we strongly support these efforts.
"In order to professionally grow the existing grassroots movement into a sustainable and well managed sport, we are delighted to tap into the vast experience of the most competent advisor – Fifa. We believe in football as one of the most attractive sports globally and have the highest trust in Fifa and its newly established organisational structure under the lead of president Gianni Infantino."
With the resources of Wang Jianlin – China's richest man with a net worth reported by Forbes at US$30.8 billion – at its disposal, Wanda has spent heavily on sport in the past year. It currently owns a 20 per cent stake in Spanish soccer club Atletico Madrid, bought in January 2015 at a cost of around €40 million (US$46.4 million), while it acquired Infront Sports & Media in February 2015 for €1.05 billion (US$1.2 billion) and the World Triathlon Corporation, which runs the Ironman ultra-triathlon events, for US$650 million in August.
Infront and the WTC were merged to form Wanda Sports in November.