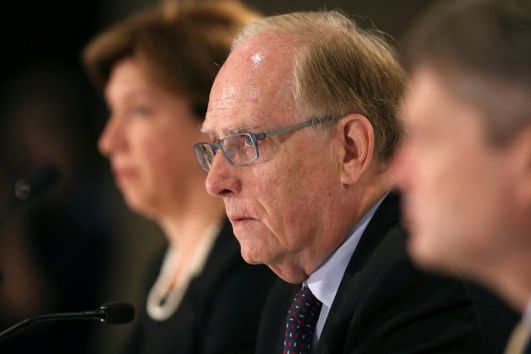 World Anti-Doping Agency (WADA) investigator Professor Richard McLaren has said that the Russian government backed doping "on an unprecedented scale" at the London 2012 Olympic Games.
The Canadian, delivering the second part of his report into allegations of doping in the country, revealed that over 1,000 athletes had benefited from a campaign organised by the Russian authorities including the secret service. Cheating is believed to have taken place across 30 Olympic and Paralympic sports, including soccer. Russia will host the Fifa World Cup in 2018, having staged the Sochi 2014 Winter Olympics.
"It was a cover-up that evolved from uncontrolled chaos to an institutionalised and disciplined medal-winning conspiracy," said McLaren.
Further details were released about the extent and execution of the programme, whose existence was outlined in an earlier release in July. The second part built on initial findings through the review of further emails, interviews, databases and over 4,000 Excel spreadsheets. Vitaly Mutko, the Russian sports minister for the period under scrutiny, declined to speak to investigators.
"It it impossible to know just how deep and how far back this conspiracy goes," said McLaren, speaking to the press at the St Pancras Renaissance London Hotel. "For years, international sports competitions have unknowingly been hijacked by the Russians. Coaches and athletes have been playing on an uneven field. Sports fans and spectators have been deceived."
He added: "We are now able not only to confirm the findings of the first report but also to put them into sharper and clearer focus.
"We are increasing the number of athletes involved, as well as the scope and conspiracy and cover-up. A cover-up that dates back to at least 2011 and continued after the Sochi Winter Games. A cover-up that evolved over the years from uncontrolled chaos to an institutionalised and disciplined medal-winning and conspiracy. A cover-up that operated on an unprecedented scale."
New details have emerged about the techniques used to tamper with and switch samples. Coffee granules and salt were used to alter the colour of clean urine so that it matched the appearance of the dirty samples replaced. Emails were also sent to the Russian ministry of sport asking whether samples should be saved or quarantined.
McLaren also stated that new iterations of the system were trialled at London 2012 and the 2013 World Athletics Championships in Moscow so that a "fail-safe" operation was in place in time for Sochi 2014.
Following the release of the first part of the report earlier this year, WADA recommended that the Russian team be banned outright from Rio 2016, a recommendation that the IOC declined to implement. Instead, it passed the decision on to individual federations - some of which, like athletics' IAAF, had already barred Russian competitors. Individual IOC members have also attacked WADA president Sir Craig Reedie for the timing and tone of the report.
The International Paralympic Committee (IPC) did issue a full ban to the Russian team from Rio 2016. In a statement released on Friday, it said: 'The full findings of the report are unprecedented and astonishing. They strike right at the heart of the integrity and ethics of sport.'