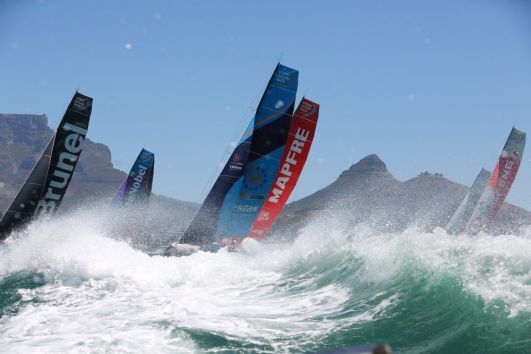 The Volvo Ocean Race has announced a commercial agreement with Bluewater.
The company will serve as the official water provider for the ongoing edition of the round-the-world yacht race, and will also be listed as a race sponsor and sustainability programme partner of the event.
The two parties will collaborate to provide innovative water purification solutions in each of the race villages in Hong Kong, Guangzhou, Auckland, Itajaí, Newport, Cardiff, Gothenburg and The Hague.
"We are delighted that Bluewater has joined the Volvo Ocean Race as our official water provider," said Anne-Cecile Turner, sustainability programme leader for the Volvo Ocean Race. "Their innovative purified water solution will supply clean drinking water and significantly reduce single-use plastics at all our stopovers.
"By embedding sustainability into every aspect of the race we are committed to maximising our positive impact, minimising our footprint and leaving a valuable legacy that will inspire others to join our campaign for plastic-free, clean seas."
Bengt Rittri, founder of Bluewater, added: "We want to show how our technology can help improve access to clean drinking water as we travel around the planet with the Volvo Ocean Race and thereby contribute to drastically reducing consumption of single-use plastic water bottles.
"It is unacceptable that throwaway plastic bottles are shipped from one side of the world to another in their billions, polluting air and ocean environments, the food and water people drink, and, ultimately, human bodies."
The 2017/18 Volvo Ocean Race set sail from Alicante, Spain in October last year. The fleet is currently racing from Melbourne, Australia to Hong Kong in the fourth leg of the event, which ends in The Hague, Netherlands in June.