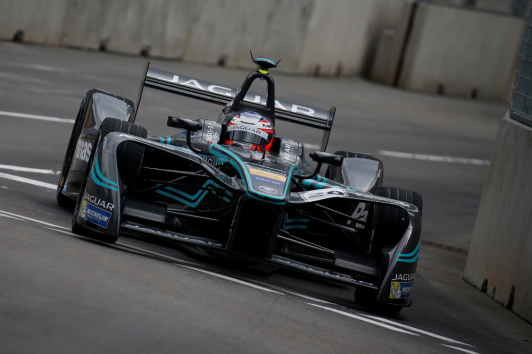 Manufacturing company The Veissmann Group will sponsor all-electric motorsport team Panasonic Jaguar Racing in the Formula E World Championship series for the 2017/18 season.
The deal will see the Panasonic Jaguar Racing team run its first laps at the start of the season on 2nd December in Hong Kong in cars bearing the Viessmann logo.
As part of the agreement, Viessmann will be entitled to showcase its products to fans trackside at the Formula E Championship when the series arrives in Germany on 19th April.
"Formula E is not only about competing drivers and the power of their cars," said Maximilian Viessmann, member of the Viessmann board of directors. "At the same time, it is a race for efficiency and the best energy management. And precisely these fields are the driving force behind Viessmann's development.
"Within a few decades, we will finally say goodbye to the oil age. The FIA Formula E Championship is a strong symbol for this change, and the partnership with Panasonic Jaguar Racing is going make our own progress on this path visible. We are happy to be a part of this movement, and we are looking forward to the first season together."
After stages taking place in Morocco, Chile, Mexico and Brazil, Formula E will return to Europe in the spring, when Rome hosts the Grand Prix on 14th April.