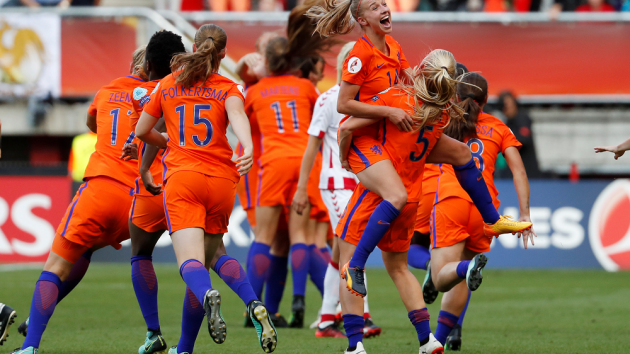 Dutch TV channel Veronica has agreed a deal with the Royal Dutch Football Association (KNVB) for the broadcasting rights to the Netherlands women's national soccer team's games.
The commercial network, owned by SBS Broadcasting, will show the Lionesses' qualifiers for the 2019 Fifa Women's World Cup, the women's 2021 Uefa European Championship, and their home friendly matches.
Veronica adds to its soccer broadcast portfolio which includes partnerships with the Uefa Champions League, Dutch soccer's KNVB Cup national club knockout competition, and the country's second tier, the Jupiler League.
The news comes after the Netherlands won the 2017 Uefa Women's European Championship, when the hosts took the title from 22-year reigning champions Germany after beating Denmark 4-2 in a final watched by 4.1 million domestic viewers.
"For the first time in history, two sets of qualification campaigns are sold to an open television station, accessible to all," said Jan Dirk van der Zee, director of women's football at the KNVB. "They no longer need to ask for attention, it's coming to them. Full stadiums, everything is alive. More and more girls will mirror the Lionesses."
"Our Lionesses now live with Veronica," added Jean Paul Decossaux, commercial director of the KNVB. "I am very proud of this deal. It's good for women's football, good for Veronica and good for our fans. Their upcoming matches have been sold out in no time, but now people without tickets can also enjoy the qualifying matches of the European champions."
Remco van Leen, director of content at SBS Broadcasting, said: "With the success of the European Chamionship, the women have proved that they can succeed. In a short period of time they have built up huge popularity and the attention of millions of people."
The Netherlands' first qualifying match for the 2019 Fifa Women's World Cup in France will see the team face Norway on 24th October.