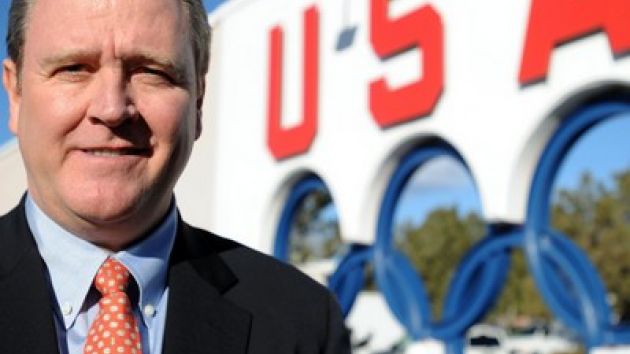 Scott Blackmun has resigned from his role as chief executive of the United States Olympic Committee (USOC) as the embattled body continues to deal with the fallout from the Larry Nassar sexual abuse scandal.
Blackmun's departure was confirmed on Wednesday by the USOC, which will now be led by current board member and former Visa marketing executive Susanne Lyons, who has taken on the role of acting chief executive.
Blackmun, who played a central role in helping to secure the 2028 Olympic and Paralympic Games for Los Angeles, had led the USOC since 2010. In a statement, the committee cited his ongoing health issues - Blackmun was diagnosed with prostate cancer in January - as the reason for his resignation.
"Serving the USOC and its many stakeholders and working with our board, our professional staff and many others who support the Olympic and Paralympic movements has not only been immensely rewarding, it has been an honour and the highlight of my professional life," said Blackmun, 60, who had faced repeated calls to stand down, including from two US senators, and did not attend this month's Winter Games in PyeongChang.
"I am proud of what we have achieved as a team and am confident that Susanne will help the USOC continue to embody the Olympic spirit and champion Team USA athletes during this transition."
Lyons, an independent director to the USOC board of directors since December 2010, will now oversee day-to-day operations at the USOC while the search for a permanent successor continues.
"Given Scott's current health situation, we have mutually agreed it is in the best interest of both Scott and the USOC that we identify new leadership so that we can immediately address the urgent initiatives ahead of us," said USOC chairman Larry Probst.
"The USOC is at a critical point in its history. The important work that Scott started needs to continue and will require especially vigorous attention in light of Larry Nassar's decades-long abuse of athletes affiliated with USA Gymnastics.
"We will be working with key stakeholders to help identify a permanent successor to Scott. In the meantime, I am confident that Susanne is the right person to help us navigate this critical transition period."
As well as confirming Blackmun's departure, the USOC announced a series of reforms and other measures designed to protect American athletes in the wake of years of sexual misconduct by Nassar, a former national team doctor who was recently sentenced to dozens of years in prison for abusing scores of elite US gymnasts.
The USOC has faced stern criticism over its handling of the scandal, with reports in the US revealing the committee's leaders knew of Nassar's abuse but failed to take action before the scandal was made public by an Indianapolis Star investigation.
A working group, chaired by Lyons, has already been set up to address issues highlighted by the Nassar case, which led to a mass resignation of the entire USA Gymnastics board.
Other announced reforms include providing new funding and resources for support and counselling for gymnasts impacted by Nassar's crimes, introducing stronger safeguards against any kind of abuse, and a wholesale review of the USOC's governance structure.
"While we are eager to review the findings of the independent investigation, the USOC is taking important actions now based on what we already know," said Lyons.
"We are evaluating the USOC's role and oversight of all the national governing bodies, considering potential changes to the Olympic structure and aggressively exploring new ways to enhance athlete safety and help prevent and respond to abuse."