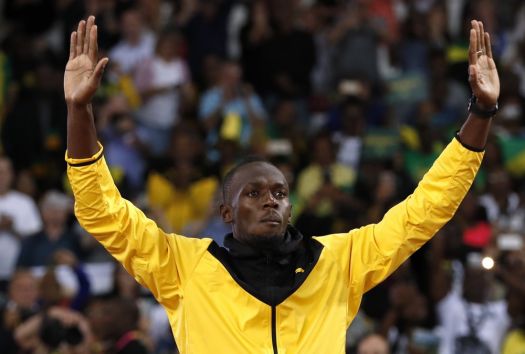 Eight-time Olympic gold medallist Usain Bolt is set to launch a new UK restaurant chain following his retirement from athletics.
The eateries will be called Tracks & Records, and the 31-year-old former sprint star is aiming to have 15 locations installed across the UK by 2022.
Jamaican franchise company Franjam, of which Bolt is a partner, announced that it has agreed a contract to set up the sites with the Casual Dining Restaurant Group (CDRG), which is part of the business group that runs KFC and Pizza Hut in the UK.
The restaurants will serve classic Jamaican dishes, and the menu features a section devoted to Bolt called 'burgers à la Usain'. The first Tracks & Records opened in Kingston, Jamaica, in April 2011, and another has since been introduced on the country's northern coast in Ocho Rios.
Commenting on the news, Bolt said: "I'm happy to be able to share a taste of the Jamaica that I know and love with the rest of the world through the opening of these restaurants across the UK. London has always been a special place for me, and I thank CDRG for giving us the opportunity to share our vision and our culture with you all."
Bolt suffered a disappointing end to his athletics career at the 2017 IAAF World Championships in London, finishing third in the 100m final before pulling up injured on the final leg of the 4x100m relay. However, he remains the world record holder in both the 100m and 200m events.