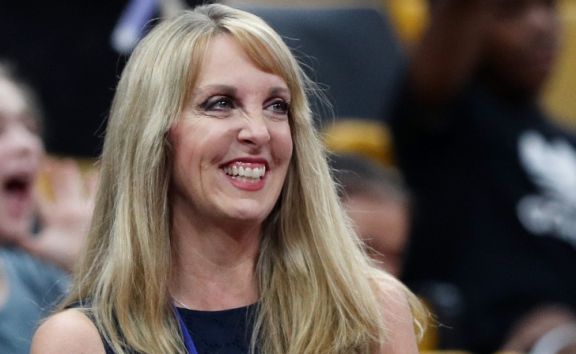 Kerry Perry has been forced to resign as president and chief executive of USA Gymnastics (USAG) just nine months after stepping into the role.
The move comes days after the United States Olympic Committee (USOC) questioned her ability to lead the organisation in the wake of the Larry Nassar sexual abuse scandal.
Perry, who was appointed in December with no background in gymnastics, also repeatedly came in for criticism from athletes who felt she was mishandling the fallout from the case involving former team doctor Nassar, who is now serving a sentence of 40 to 175 years in prison.
Perry's resignation was confirmed in an official statement from USAG on Tuesday which read: 'USA Gymnastics president and chief executive Kerry Perry last evening informed the board of directors that she will resign effectively immediately.
'The board has immediately begun to identify an interim chief executive and is in the process of establishing a search committee to find a permanent replacement.'
Perry's departure follows that of Mary Lee Tracy, who parted ways with the troubled organisation on Friday just three days after being hired as coach of the women's elite development programme.
Tracy, who had been an early supporter of Nassar when allegations against him first surfaced, made what was deemed an inappropriate attempt to reach out to six-time Olympic medallist Aly Raisman, one of the hundreds of women abused by Nassar.
USAG promptly responded to the revelations by asking Tracy for her resignation. That move was then followed by the USOC's new chief executive Sarah Hirshland demanding USAG clean up its act, releasing a statement saying the organisation 'is struggling to manage its obligations effectively and it is time to consider making adjustments in the leadership.'
Hirshland added that the USOC would reach out to the USAG board over the weekend to discuss possible changes, which ended with Perry stepping down less than a year after being tasked with putting the organisation back on track.