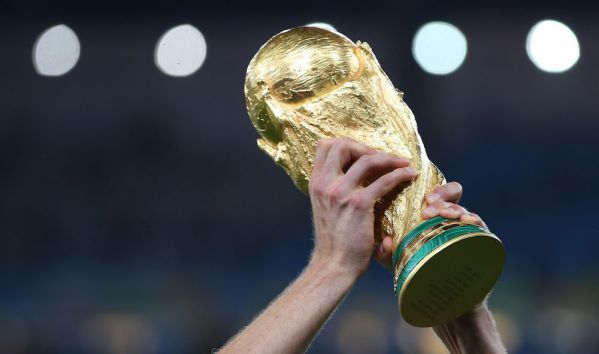 The soccer associations of the United States, Canada and Mexico have formally announced their intention to enter a three-way bid for the right to host the 2026 Fifa World Cup.
Canadian Soccer Association (CSA) president Victor Montagliani, who also serves as president of Concacaf, Fifa's North and Central American confederation, joined US Soccer president Sunil Gulati and Mexican Football Federation president Decio de Maria at an event in New York City on Monday to confirm the bid, which has been expected for several months.
Speaking at the event, held at the One World Observatory inside Manhattan's One World Trade Center, Gulati said the initial proposal calls for the US, which had originally considered bidding alone, to stage 60 games in the newly expanded 48-country, 80-game tournament, with Canada and Mexico hosting ten games each.
All matches from the quarter-finals onwards would take place on US soil, Gulati added, while each of the three host nations are hopeful of securing automatic qualification, in line with previous World Cup hosting rules. It will, however, be the Fifa Council that decides match sites and scheduling.
"This is a milestone day for US Soccer and for Concacaf," Gulati said in a statement issued shortly after Monday's announcement. "We gave careful consideration to the prospect of bidding for the 2026 Fifa World Cup, and ultimately feel strongly this is the right thing for our region and for our sport.
"Along with our partners from the Canadian Soccer Association and the Federación Mexicana de Fútbol, we are confident that we will submit an exemplary bid worthy of bringing the Fifa World Cup back to North America."
A Concacaf member nation last staged the World Cup in 1994, when the USA played host to a tournament that preceded the launch of Major League Soccer (MLS) two years later. Mexico has hosted the event twice, in 1970 and 1986, while Canada has yet to do so - although it did hold the Women's World Cup in 2015 and a men's under-20 edition in 2007.
Monday's announcement follows last weekend's Concacaf congress on the Caribbean island of Aruba, a gathering attended by Fifa president Gianni Infantino and also Alejandro Dominguez, the president of South American confederation Conmebol.
Having pushed through his plan to expand the World Cup from 32 teams in January, Infantino is said to be supportive of joint bids. The 2026 World Cup will be the first edition of the tournament to feature 48 teams and also the first awarded during Infantino's presidency.
Should Concacaf's three-way bid prove successful, it would mark the first time Fifa's flagship tournament is staged across three separate countries. The only jointly hosted edition of the event remains the 2002 tournament in South Korea and Japan.
According to Fifa's new World Cup bidding process, announced as part of a wider package of reforms last year, countries interested in staging 2026 have until December 2018 to prepare their bids. Evaluation of each bid will then take place between January 2019 and February 2020, with Fifa's final decision to be made at the federation's congress in May 2020.
Other than the Concacaf nations, only Morocco has so far expressed any real interest in running for 2026, with newly elected Confederation of African Football (CAF) president Ahmad Ahmad having backed a possible bid from the North African country, which previously lost out on 1994, 1998, 2006 and 2010. Countries in Europe and Asia are excluded from running due to Fifa's continental rotation policy, with Russia and Qatar hosting 2018 and 2022 respectively.
Even before Monday's confirmation, the three-way Concacaf bid was widely deemed to be the favourite, particularly since the USA, Canada and Mexico already boast much of the infrastructure and facilities required to host a 48-team tournament. Yet doubts remain over what impact US president Donald Trump and the policies of his administration might have on the joint proposal.
Trump's much-publicised promise to build a wall along the US-Mexico border has frayed relations between the two countries, while there are concerns that his administration's ban on immigration from certain Muslim-majority nations could imperil the joint Concacaf bid.
Speaking to SportsPro last month, Montagliani, who was elected Concacaf president in May 2016 and has since taken steps to reform the confederation following years of corrupt leadership, insisted the three bidding associations "have a duty to navigate" political situations, regardless of who is in power in the host countries.
"It's up to us to put on the World Cup because we have a duty to the fans and I think the World Cup - no pun intended - needs to trump politics," he said. "Whatever we need to do to make sure that we navigate that, we'll do it to make sure that we get a World Cup in Concacaf."
He added: "If you could tell me what the world would look like in ten years, you're a lot smarter than I am. [The 2026] World Cup is ten years away and a lot of things can change, including presidents."
Asked on Monday about the potential impact of President Trump's policies, Gulati said: "We have very specifically addressed this with the president. He is fully supportive of the joint bid, encouraged the joint bid, and is especially pleased with the fact Mexico is participating in the joint bid."