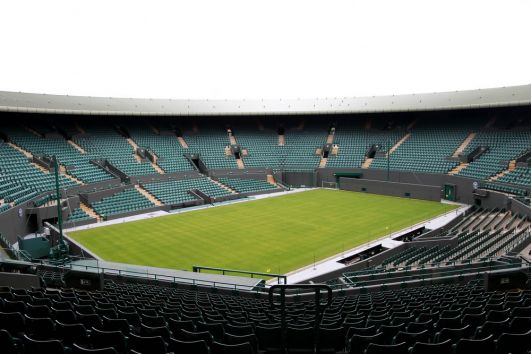 Wimbledon's All England Lawn Tennis Club (AELTC) has obtained a UK£175million (US$225) loan to finance the second phase of its 'Master Plan' project.
The additional funding will support the organisation's ongoing improvement strategy. Central to the plans is the construction of a retractable roof on Wimbledon's No.1 court, which will cost UK£71million (US$91.3 million) and is expected to be completed in time for the 2019 edition of The Championships - tennis' grass-court Grand Slam event. The capacity of the club's second most prestigious court is expected to rise from around 11,500 seats to 12,400 seats but there are no plans to increase ticket prices.
The remaining money will be spent on general improvements and the building of new clay and covered hard courts within the south-west London club's grounds.
The additional spending was revealed in the AELTC 's annual financial report, which stated that 'in September 2016, the company [AELTC] extended the UK£175million (US$225 million) loan with HSBC to 31st July 2023 to finance the number one court project and aspect of the Master Plan. The loan is secured on the grounds at Church Road.'
Last financial year the AELTC made a UK£33.2 million (US$42.7 million) profit that helped pay off a past UK£75million (US$96.4 million) loan, which funded the first part of its 'Master Plan' - including the building of a roof on its show court, Centre Court.
Wimbledon makes UK£125million (US$160 million) over a five-year period from debenture seat sales alone. This profit will be used to pay off the new loan with additional income coming from television rights, general ticket sales and sponsorship.