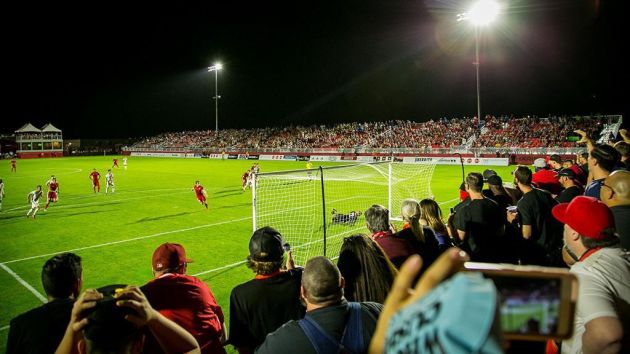 The United Soccer League (USL), the second tier of club soccer in the US, has announced a new three-year partnership with Act Global.
The Texas-based company will serve as the league's official synthetic turf provider in a deal which also covers the USL's Division III league, a new third-tier competition launching in 2019 which will see 30 to 40 new soccer franchises launched in North America, along with the Premier Development League (PDL) and the Super Y League.
The financial terms of the agreement have not been released. Act Global is also an official supplier of World Rugby, the International Hockey Federation and Fifa.
"We are proud to partner with such an experienced and respected company like Act Global," said USL president Jake Edwards. "USL clubs are committed to meeting and exceeding all league and federation standards for their stadiums and training complexes.
"Act Global meets the demands required at all levels by producing and installing the highest quality synthetic surfaces. As a Fifa preferred producer, we know Act Global is providing our clubs with the highest standards in terms of quality, performance, and safety."
"Act Global is excited and honoured to be selected by United Soccer Leagues as its official synthetic turf," added John Baize, co-owner of Act Global. "We are highly impressed with the USL organisation and its focus on the players' well-being while supporting all of its affiliated clubs through negotiated supplier programmes such as this.
"We share the USL's passion for player safety and performance at all levels of play and are committed to offering this quality to hundreds of teams throughout the USL, Division III, Premier Development League and the Super Y League. The USL is experiencing fantastic growth, and we are excited to be part of its future."