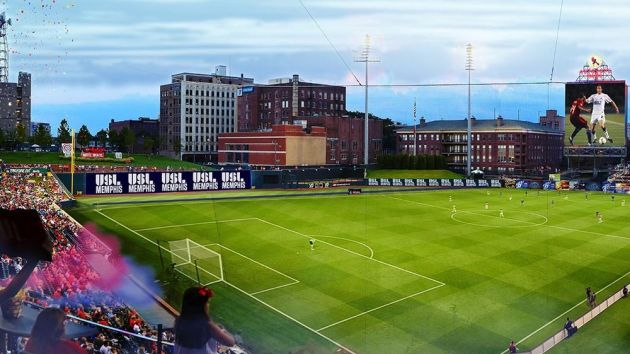 The United Soccer League (USL), the second tier of club soccer in the US, has announced that Memphis, Tennessee will be the home of an expansion franchise from the beginning of the 2019 season.
The club's ownership group is led by Peter Freund and Craig Unger, owners of the Memphis Redbirds, the minor league affiliate of Major League Baseball's (MLB) St Louis Cardinals. The new team will play at AutoZone Park, which is located in the centre of the city.
Memphis is the third expansion franchise to be added to the USL for the 2019 campaign, following the arrival of Birmingham, Alabama and Austin, Texas. Memphis will become Tennessee's second USL club after Nashville SC join the league at the beginning of the upcoming 2018 season. Nashville was also awarded a Major League Soccer (MLS) expansion team in December last year.
"The addition of Memphis to the USL is another landmark for the growth of both the league and the sport of soccer in the Southeast," said Alec Papadakis, chief executive of the USL. "The USL continues to lead this growth in the sport's popularity and demand by identifying and securing thriving expansion markets, with Memphis the latest example.
"This in turn continues to drive the league toward its goal of becoming one of the top division two leagues in the world, alongside the likes of the English Championship, Liga Adelante in Spain, and Germany's 2. Bundesliga.
"Memphis has already shown itself to be a passionate sporting city, with the work Peter Freund, Craig Unger and their organisation at the Memphis Redbirds a perfect illustration of that. We are extremely pleased to add Peter and Craig to our already world class ownership group, and believe the experience they bring from operating and managing a professional sports organisation will mirror the success other USL clubs with similar backgrounds have built."