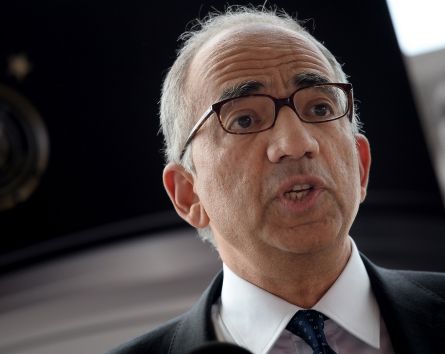 United States Soccer Federation (USSF) president Carlos Cordeiro has admitted that he cannot be sure whether Donald Trump's volatility will work against the United Bid.
Trump has been a controversial and vocal advocate of the North American bid, prompting world soccer governing body Fifa to issue a reminder of its rules regarding political influence on the process back in April.
Seemingly ignoring that, last month Trump tweeted his support for his country's bid, saying: "It would be a shame if countries that we always support were to lobby against the U.S. bid. Why should we be supporting these countries when they don't support us (including at the United Nations)?"
Upon arrival in Moscow ahead of Wednesday's vote, Cordeiro admitted he was unsure of the impact of his country's president on proceedings, "We've been working basically nonstop," he said. "But there are some things out of our control, too."
Although Cordeiro is adamant that no member federation has explicitly asked him about Trump, he does not know whether the bid will be affected.
"Geopolitics is outside our terrain. And there's always risk," he added.
Both the United States and Mexico have hosted World Cups inside the last 48 years, while Canada hosted the most recent Women's World Cup. Morocco, on the other hand, have failed in their four previous bids.
Speaking on Monday, the Royal Moroccan Football Federation (FRMF) president Fouzi Lekjaa focused on the United Bid's claim that a World Cup on North American soil would bring with it revenue of US$14.3 billion. Morocco's bid promises just over half of its rivals, with a projection of US$7.2 billion in income.
"There is lots of uncertainty. That [figure] doesn't correspond either to historical facts or future extrapolation, it's an exercise that goes beyond that," Lekjaa said of the joint United bid's financial forecast.
Morocco have defended its own projection, reminding voters that US$5 billion of profits would, in itself, be a Fifa record. The bid team is using the country's proximity to mainland Europe to tempt voters to buy into a more compressed tournament.
On Wednesday morning, the bid teams will offer their final presentations in a last-minute push for vital support, before their fate is left in the hands of 207 Fifa eligible voting member nations.