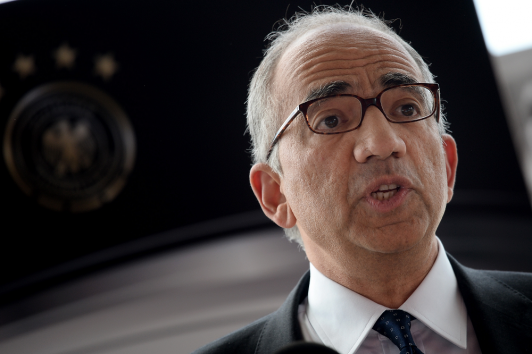 The committee behind the United 2026 bid, the campaign to bring the Fifa World Cup to the US, Mexico and Canada, has announced key changes to its leadership team.
Steven Reed, president of the Canadian Soccer Association, the Mexico Football Federation's (FMF) Decio de María, and new US Soccer president Carlos Cordeiro have been appointed as co-chairs of the United Bid Committee.
Former US Soccer president Sunil Gulati will no longer hold the title of chairman, though he will remain on the bid committee's board of directors.
Cordeiro was elected last month as the new president of US Soccer, replacing Gulati, who decided last December against running for re-election. He faced heavy criticism after the US men's national team failed to qualify for this year's World Cup in Russia.
United 2026 is facing competition from Morocco for the 2026 edition of soccer's global showpiece, with a final decision on the hosting rights expected to be made on 13th June at the 68th Fifa Congress in Moscow, ahead of this year's World Cup in Russia.
ESPN reports that sources with knowledge of the leadership changes decision say that the moves were made in response to the recent election of Cordeiro as US Soccer president, as well as the perception that the bid, while comprised of three countries, is seen as a US-led effort. The US will be hosting 60 of the 80 games in what will be an expanded 48-team event in 2026, but the new appointments are intended to create a more equitable share of responsibility.
Commenting on their new roles as co-chairs, Cordeiro, Reed and de María wrote in a join statement: 'United, as one, Canada, Mexico, and the United States are ready to host the Fifa World Cup in 2026 and help propel the global game to new heights.
'Together, we represent a unified vision that transcends national borders and politics. We are determined to show that in challenging times when forces around the globe too often pull people apart, football can remind us of the common values and ideals – humanity, friendship and mutual respect – that unite us as fellow human beings.
'We are honoured to be in this campaign, and we are determined to listen to and learn from each of you – not only to earn your trust and your vote, but to ensure that the 2026 Fifa World Cup helps every member of our global football family achieve their highest potential.'
For the first time, the award of the World Cup will be made by all 211 Fifa members, including the four bidding nations, rather than the executive committee - now replaced by the Fifa Council.
ESPN also reported last week that multiple high-ranking executives said that the United 2026 bid is facing resentment from voters over the US Department of Justice's investigation into Fifa corruption, as well as in response to the foreign policy of US president Donald Trump's administration and provocative comments made by the real estate mogul about other countries.
Another factor believed to be threatening the United 2026 bid is that each federation's vote will be made public. Morocco is viewed as gaining ground among member associations in Africa, Asia and South America, with continental bloc votes seen as being more likely.