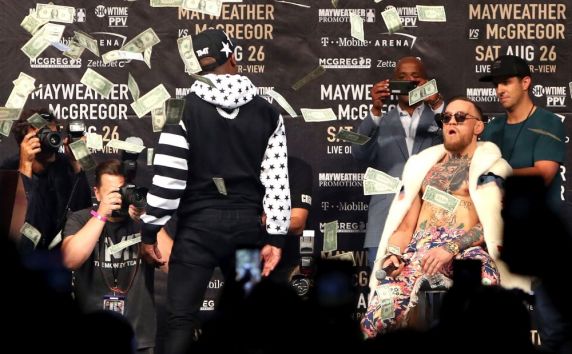 Mixed martial arts organisation the Ultimate Fighting Championship (UFC) has recorded its most profitable year, banking 'well over' US$700 million in revenue for 2017.
That figure, revealed by Moody's Investors Service, would likely mark an increase on UFC's 2016 haul which was estimated to be in the region of US$750 million by Forbes.
The UFC achieved those landmark profits largely thanks to the widely-viewed, cross promotional bout between Irish MMA star Conor McGregor and boxing great Floyd Mayweather Jr.
In fact, had it not been for UFC's sales relating to the McGregor v Mayweather fight revenues would have decreased noticeably in 2017.
This decline in sales is attributed to a lack of star power currently in the UFC. One of the promotion's biggest names, Ronda Rousey, did not compete in 2017, announcing her retirement and eventually moving to WWE, and Jon Jones appeared in only one fight. The Mayweather spectacle aside, McGregor did not enter the octagon either.
Pay-per-view sales were down dramatically from previous years. Last year's sales are estimated to at 4.142 million buys. By way of comparison, PPV sales for 2015 are estimated to have been 7.55 million buys and generated a reported US$237 million in revenue.
The UFC offset some of the decreased PPV revenue through increased contractual revenue. Contracted revenue in 2015 totalled US$280 million. According to UFC's July, 2016 lender presentation this was projected to increase by approximately US$50 million for 2017 whilst it was expecting to cut an additional US$55 million in expenses through cost saving measures.
Much of UFC's recent financial success correlates to its underpaying of its fighters. In one of the year's last fight cards, 14 fighters received only US$10,000, a strikingly low number given the revenue UFC produce. This marginal amount, coupled with the fighter's personal costs has led many of the promotion's athletes to consider unionising in hopes of better compensation.