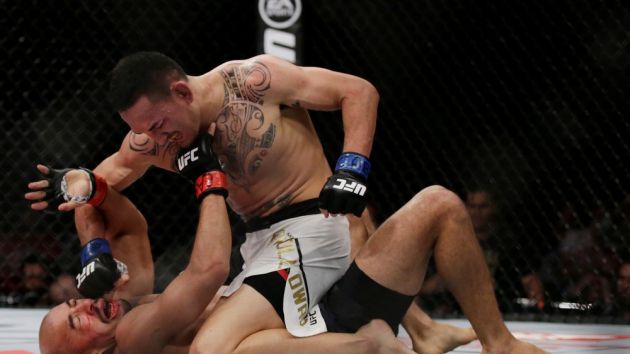 The Ultimate Fighting Championship (UFC) has announced a partnership with AirAsia, while Chinese online sports broadcaster PPTV has extended with the MMA organisation.
AirAsia will be the UFC's first official airline sponsor, gaining signage and branding rights inside the UFC's eight-sided fighting enclosure, the Octagon, during its Shanghai event in 2018, as well as for select international events during the year.
In addition, the Malaysian airline will serve as presenting sponsor of the UFC's fan experience promotions.
AirAsia is also to collaborate with the MMA organisation to create co-branded content for Asian fans via both companies' media platforms, and will sponsor content featured on Chinese social media sites Weibo and WeChat.
It will enjoy a presence during live-event broadcasts and on multiple UFC digital platforms, and is to support a UFC scholarship program, with one Asia-based athlete to be awarded a scholarship that includes travel to the United States and training at the UFC Performance Institute in Nevada.
"In many ways, UFC's rapid rise as a global phenomenon parallels AirAsia's," said Tony Fernandes, group chief executive of AirAsia. "The UFC expanded from its first event in Denver to the rest of the US and then to Asia Pacific and the world, while AirAsia grew from a small domestic airline into Asia's largest low-cost carrier that now flies to the US. Opposite directions but chasing the same dream, and we are thrilled to team up with a brand that shares our drive and vision."
"This deal is an indication of how much UFC and the sport of mixed martial arts have grown in Asia and around the world," added UFC vice president of Asia Pacific, Kevin Chang. "AirAsia is an innovative and fast-growing brand, we thank them for the support and we're looking forward to creating engaging branded content for fight fans and AirAsia customers to enjoy."
AirAsia will begin its international activations during the UFC's first event in mainland China on 25th November.
Meanwhile, PPTV's expanded partnership with the UFC sees the Chinese digital broadcaster offer an exclusive UFC MMA membership package from 5th November.
The package will provide users with access to all UFC archived programmes and pay-per-view live broadcasts.
The Chinese sports streaming site first partnered with the UFC in 2012, and became its exclusive new media broadcaster in a five-year deal in 2016.