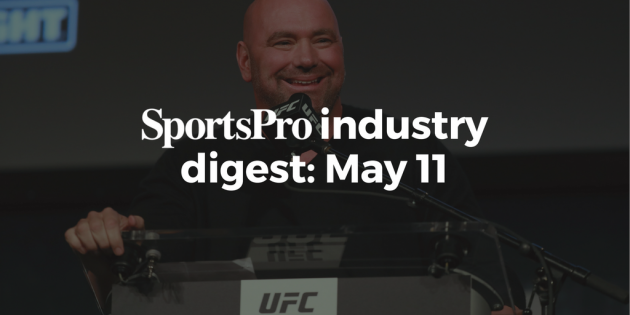 Top story
Mixed martial arts giant the Ultimate Fighting Championship (UFC) has announced the renewal of its partnership with the International Mixed Martial Arts Federation (IMMAF).
The extension stands as a continuation of UFC's commitment to supporting the safe practices and promotion of amateur mixed martial arts. UFC and the IMMAF will continue to collaborate, share information and expertise in areas of sport development that are of mutual interest, including anti-doping and event sanctioning.
"We are thrilled to renew our partnership and provide continued global support of IMMAF," said UFC chief operating officer Ike Lawrence Epstein. "IMMAF has done a remarkable job of promoting the sport of amateur mixed martial arts from a grassroots level and serving as a conduit for higher safety and regulatory standards. UFC is proud to further its alignment with IMMAF as they consistently produce top-tier amateur events around the world."
The IMMAF is working to obtain international recognition for its sport from the Global Association of International Sports Federations (GAISF), the global umbrella body for all established sports, as part of the MMA body's pledge to see its amateur MMA tournaments brought into the Olympic Games.
Sponsorship
The World Surf League (WSL) has moved signed a new partnership with home rental and travel company Airbnb. The tie up sees WSL offer official 'experiences' through the home rental and travel company's platform.
Surfing products and apparel manufacturer Vissla has renewed its title sponsorship of the World Junior Surfing Championship for another three years until 2020.
The Badminton Association of India (BAI) has signed a lucrative four-year extension to its partnership with Japanese sports equipment manufacturer Yonex worth a reported Rs100 crore (US$14.9 million), according to InsideSport.
The New Zealand Rugby League (NZRL) national governing body has renewed its sponsorship deal with ydraulic and industrial hose specialist Pirtek for another four years.
The Federation of International Lacrosse (FIL) has unveiled sportswear provider Honig's as an official partner in a two-year deal that runs until 2020.
Cooper Tire Europe has agreed to remain as presenting sponsor of RX2 International Series, the feeder championship for the World Rallycross Championship, for the second year running.
Ironman has confirmed a new partnership with triathlon racing bike brand Ventum to become the series' official global bike partner as the supplier of its World Championship and 70.3 World Championship events.
English third tier soccer club Peterborough United have announced a five-year deal with Weston Homes, to see the company become the title sponsors of the London Road Terrace at the ABAX Stadium.
Volvo Ocean Race Port Partner, Gurney's Resorts, has expanded its support of the 13-day event with a title sponsorship of the In-Port Race on 19th May.
Andretti Autosport have announced that telecommunications distributor Intelisys will be the co-primary sponsor of Stefan Wilson's number 25 Driven2SaveLives Honda for the Indianapolis 500 on 27th May.
English county cricket outfit Lancashire have announced that University Academy 92 (UA92) has been named as their official higher education partner on a multi-year contract. UA92 will be based adjacent to the county's next to Emirates Old Trafford home at the Kellogg's building, which will be refurbished and modernised ahead of the new university's opening in September next year.
Sansar, the social virtual reality platform, has announced new partnerships with multiple Overwatch League professional esports teams, including the Houston Outlaws and the San Francisco Shock. This first-of-its-kind collaboration will allow fans to stream matches in virtual, interactive watchspaces, and show their support through exclusive branded merchandise.
Media Rights
21st Century Fox has announced a definitive agreement with Sinclair Broadcast Group and Tribune Media Company to acquire seven local television stations in a deal worth approximately US$910 million that also establishes Fox in key markets that align with its sports rights.
Pay-tv channel Sky Sports Racing will broadcast the Lexus Melbourne Cup exclusively live in the UK and Ireland this year after signing a long-term deal with the Victoria Racing Club (VRC).
US pay-television broadcaster and over-the-top (OTT) platform CBS Sports will continue to show the US Navy's American football games, including the Navy v Air Force fixture for another 10 years, through to the end of the 2027-28 season after CBS Sports Network extended its rights deal.
Agencies
The Athletics World Cup, the new eight-team international track and field tournament, has appointed STH Live as its exclusive sales agent for hospitality and VIP tickets at July's inaugural event at the London Stadium.
Politics & Governance
The start-up professional men's soccer Canadian Premier League (CPL) has confirmed that York 9 Football Club will be one of its founding clubs to play when the competition debuts in spring 2019.
Genius of the day
World Cup sponsor Visa has launched its first advert featuring new ambassador Zlatan Ibrahimovic and it is exactly what you would hope it to be. The Swede gives a press conference announcing that he will qualify for the tournament on his own with the most Zlatan of Zlatan quotes: "Regulations are for the regular players. I am Zlatan." Perfect.
Our industry digest will update throughout the day as deals break so check back to make sure you do not miss a story