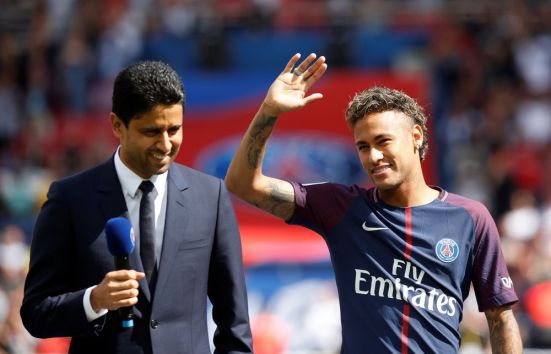 Uefa, the governing body for soccer in Europe, has launched an investigation into top-tier French soccer side Paris-Saint Germain's summer transfer activity to determine whether it complies with Financial Fair Play (FFP) regulations.
Uefa introduced FFP in 2013, requiring clubs to balance their spending with their revenue to prevent them getting into financial problems in the future.
Qatari-owned PSG more than doubled the world record transfer fee this summer when they forked out €222 million (US$264 million) to prise Brazilian star Neymar away from Barcelona, before committing to a future €180 million (US$214 million) transfer fee for France youngster Kylian Mbappe upon signing the 18-year-old from Ligue 1 rivals AS Monaco on an initial season-long loan.
The decision to investigate now, rather than in March when Uefa begins its retrospective look into clubs' financial years, follows complaints from Barcelona, Real Madrid and La Liga president Javier Tebas claiming that PSG are breaking the rules.
Tebas has also now requested that Uefa expands the investigation to include English club Manchester City, who spent a mammoth UK£220 million (US$284 million) during the summer transfer window to bring in the likes of Bernard Mendy, Kyle Walker, Bernardo Silva, Ederson and Danilo. The Premier League side are owned by the Abu Dhabi sovereign wealth fund.
A statement from Uefa read: 'The investigatory chamber of the Uefa club financial control body has opened a formal investigation into Paris Saint-Germain as part of its ongoing monitoring of clubs under Financial Fair Play regulations. The investigation will focus on the compliance of the club with the break-even requirement, particularly in light of its recent transfer activity. Uefa considers financial fair play to be a crucial governance mechanism which aims to ensure the financial sustainability of European club football.'
Six-time French champions PSG previously failed to meet FFP laws in 2014, and potential sanctions could include withholding Uefa Champions League prize money, reducing the number of players the club are allowed to register for the competition and even exclusion from the tournament.
PSG, however, are adamant that their transfer activity has not breached any regulations, and a statement from the club said: 'The club is surprised by this approach given that it has constantly kept Uefa informed about the financial impact of all players' operations carried out this summer, even though it wasn't obliged to do so. The club is very confident in its ability to demonstrate that it will fully comply with Financial Fair Play rules for the fiscal year 2017-2018.'