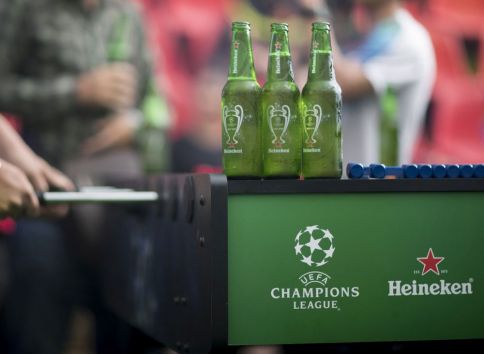 Uefa's executive committee, European soccer's top elected body, has amended its regulation regarding the distribution of alcohol within stadia during matches that fall under its jurisdiction.
The decision to alter Article 36 of Uefa's 2006 Safety and Security Regulations means that grounds will now be permitted to sell and serve alcohol at European matches in line with local procedure from the beginning of the 2018/19 season.
Uefa runs club and national competitions including the Champions League, Europa League, European Championships and Uefa Super Cup, meaning that alcohol will now be sold within arenas where local and national law permits.
The amendment states: "The match organiser may only sell or distribute alcohol within the stadium or its private environs if and within the limits permitted under the national and local law as applicable from time to time."
The amendment will be a boon for official Uefa partners such as Dutch beer brand Heineken.
Previously, no public sale or distribution of alcohol was permitted within the grounds of the stadium, while all non-alcoholic drinks had to be served in paper or plastic containers.
However, the regulations did not apply to VIP areas, where alcohol was served openly.
Ronan Evain, chief executive of Football Supporter Europe (FSE), praised the decision. He said: "For a long time football supporters have felt unfairly treated in comparison with fans of other sports like rugby, to say the least.
"There is absolutely no evidence or research to suggest that banning alcohol in a stadium has any bearing whatsoever on preventing or curtailing football-related disorder in and around it."