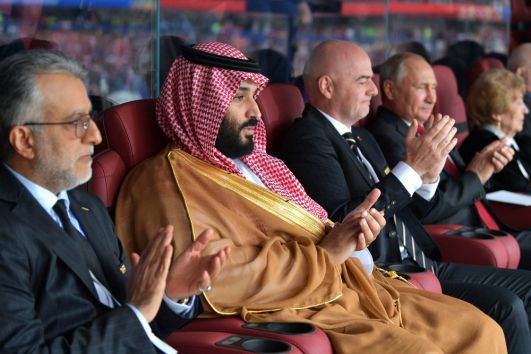 Uefa has become the first soccer governing body to acknowledge that BeoutQ, the pirate streaming service which has been illegally distributing the Fifa World Cup in the Middle East and North Africa (MENA), is based in Saudi Arabia.
European soccer's governing body confirmed in a statement that 'a pirate channel, named BeoutQ based in Saudi Arabia' had also illegally distributed the Uefa Champions League and Europa League club tournaments throughout the 2017/18 season, including the Champions League final at the end of May.
BeIN Sports is the exclusive rights holder in the MENA region to Uefa club competitions, and the Qatar-backed media giant has also accused BeoutQ of stealing its World Cup feed and broadcasting it as its own.
'Uefa considers that illegal piracy of live football, particularly on the scale of that being carried out by BeoutQ poses a significant threat to European football,' Uefa's statement said.
'The protection of our intellectual property is key to Uefa and we will take the necessary steps to address the issue in order to enforce and protect the rights granted to BeIN Sports, including through engaging with relevant satellite carriers in the region. For the avoidance of any doubt, BeoutQ has received no rights whatsoever from Uefa to broadcast any Uefa event.'
The announcement comes less than a week after Fifa confirmed it was considering taking legal action against BeoutQ, although soccer's global governing body has not yet acknowledged that the streaming service is operating out of Saudi Arabia.
Earlier this week, Telemundo Deportes, another World Cup broadcaster, also claimed that its World Cup broadcast was being pirated by BeoutQ, which on Wednesday posted a goading statement on its feed, reading: 'Don't worry – leave us in the driving seat and enjoy the games.'
The pirate channel, which has been made available to Saudi viewers via satellite operator Arabsat, was born out of a trade ban between Saudi Arabia and Qatar, which means fans in the former country are not able to watch BeIN. This has resulted in the World Cup not being officially broadcast in Saudi Arabia, despite its national team featuring at the tournament for the first time since 2006.