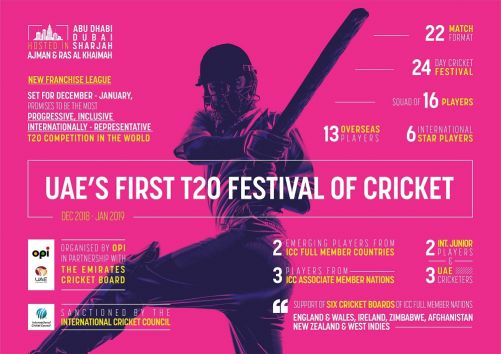 The Emirates Cricket Board (ECB), the governing body for the sport in the UAE, has announced plans for a new Twenty20 league.
The ECB says it has been granted a ten-year sanctioning agreement for the venture by the International Cricket Council (ICC), with the new league due to be formally unveiled later this month.
The UAE-owned competition will make its debut in Abu Dhabi, Dubai and Sharjah, and will feature five new franchise teams competing for the inaugural title in a 22-match format played over 24 days between December and January 2019.
The five franchises will comprise a squad of 16, including six international star players, two emerging players from ICC full member countries, three players from ICC associate member nations, two junior players and three UAE cricketers.
According to the ECB, the new tournament will provide opportunities for cricketers from ICC full member and associate member countries as well as juniors.
The UAE says the league has already received support from six ICC full member nations— England, Ireland, Zimbabwe, Afghanistan, New Zealand and the West Indies.
David East, chief executive of the ECB, said: "Our firm aim is for this event to take the sport to all corners of the UAE and to develop cricket at a grassroots level initially in – Abu Dhabi, Dubai, Sharjah, Ajman and Ras Al Khaimah. This will not be just another T20 tournament, it will be a true international festival of sport and the hottest cricket ticket in the UAE."
Nasim Ashraf, chairman of the league's board of directors and ECB board member, added: "We are not looking to compete with other T20 leagues, we are looking to develop an international festival of cricket that exists first and foremost for the benefit of the players, and with a very specific goal of helping to develop new talent from around the world and grow the game in keeping with global best practices."