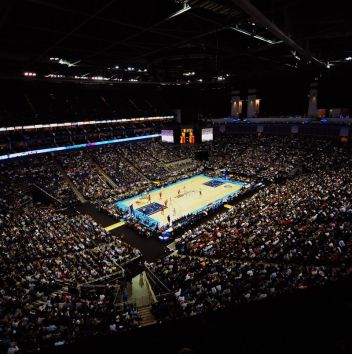 Twitch has agreed a partnership with the National Basketball Association (NBA) G League to stream games live for the 2017/18 regular season.
The live streaming video platform, best known for its coverage of esports, will show up to six weekly games of the minor league basketball competition, which will also be available on demand after the live broadcast.
In addition, the coverage will feature co-streaming with selected Twitch personalities and basketball fans, a process which allows shared commentary and community in order to generate a 'personalised, social experience that includes the ability for viewers to chat with commentators during the game'.
Twitch's live streams will also incorporate interactive statistics via a channel overlay and customising functions.
The news marks the first time Twitch has partnered with a major sports league.
"Our deal with Twitch will be groundbreaking," said Malcolm Turner, president of the NBA G League. "By leveraging fan commentary, new technology and a passionate community, Twitch elevates video in a unique, engaging way that resonates with young viewers. We look forward to collaborating with their team to create something truly special for basketball fans."
"From day one, the NBA team got what Twitch is all about," added Michael Aragon, senior vice president of content at Twitch. "We aren't a traditional sports experience on TV; we are much more.
"From our broadcasters to our engaged community to our interactive product that brings everyone together, collaborating with their team is going to bring a unique experience to basketball fans worldwide. We are thrilled to be working with the NBA G League and look forward to seeing the impact of social video on mainstream sports."
The NBA G League, which also functions as a research and development arm of the NBA, has tested rules and technological innovations this season including four-person referee crews, and a two-minute overtime period.