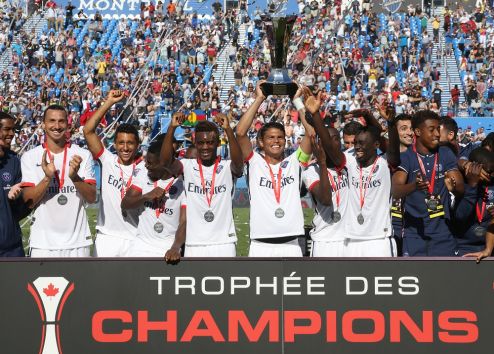 French soccer's French Football League (LFP) has agreed a six-year deal with Kaisa Culture Sports and Tourism Group.
The agreement, which was brokered by the Lagardère Sports agency, will see three editions of the Trophée des Champions match between the Ligue 1 champions and Coupe de France winners staged in the Chinese city of Shenzen.
Several events will also be organised throughout the season in China between 2018 and 2023 to promote French soccer in the country.
The Trophée des Champions has been held outside France since 2009, with Beijing hosting the 2014 edition.
Kaisa Culture Sports and Tourism is associated with the organisation of the ATP and WTA's Shenzhen Open tennis tournament, the National Basketball Association's (NBA) China Games, and the International Champions Cup pre-season club soccer competition.
The news comes after the LFP agreed a four-year rights deal with Chinese state broadcaster CCTV, which will show two games per matchday from Ligue 1.
Nathalie Boy de la Tour, president of the LFP, said: "International development, especially in China, constitutes one of the priorities of our strategic plan. A year after opening an office in China and several days after the announcement of a major agreement for Ligue 1 to be shown on CCTV, this new collaboration with Kaisa Culture Sports and Tourism Group again illustrates our desire to promote French professional football in a key region for its development."
Laurent Moretti, director general of Lagardère Sports in France, added: "Lagardère Sports are particularly proud to accompany the LFP in this strategic and innovative partnership for two main reasons. Firstly, we were attentive to what's at stake in terms of the international development of the LFP by creating the conditions whereby the Trophée des Champions could be organised in a strategic territory for French football. On the other hand, the synergies in place in our organisation between our French and Chinese teams validate our global ambition for the benefit of our clients."
The 2018 Trophée des Champions is due to take place on 4th August at the Shenzhen Universiade Sports Centre, which is operated by Kaisa Culture Sports and Tourism Group.