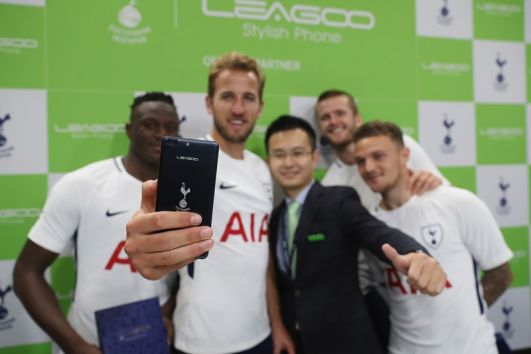 English soccer club Tottenham Hotspur have agreed a five-year sponsorship deal with Leagoo.
The China-based smartphone and mobile technology company will act as the official mobile phone partner of the north London side, who were runners-up in the Premier League in 2016/17.
Leagoo will have a branding presence during all Spurs home games, which are being played at Wembley Stadium in the 2017/18 season as the club complete construction on a new 61,000-seater stadium at White Hart Lane, and across the club's social media channels. It will also create a range of official Tottenham Hotspur smartphones and accessories.
"We are delighted to bring such an exciting and ambitious company as Leagoo on board as a partner," said Tottenham Hotspur head of partnerships Fran Jones. "We look forward to working with them in the long-term to help grow their presence across the world, particularly in Asia, an area where the club continues to increase in popularity."
Johnson Zhuang, the chief executive of Leagoo, added: "We are proud to become an official partner of Tottenham Hotspur; a club with an extensive worldwide fanbase that will provide us with the opportunity to widen our reach. We are looking forward to working with Spurs and we are also excited to create a new handset for the club and its supporters."
After winning their opening game of the 2017/18 Premier League season 2-0 away to Newcastle United, Spurs take on champions Chelsea in the first ever Premier League game at Wembley Stadium on Sunday 20th August.