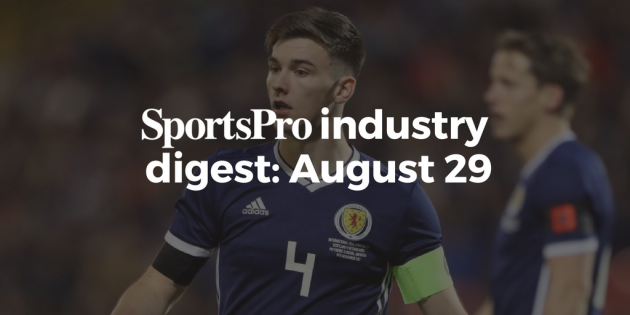 Top Story
The Scottish FA has announced that it has extended its partnership deals with German sportswear brand Adidas and UK retailer JD.
Both are being retained until the end of 2022, with Adidas staying on as the official kit supplier, while JD has continued its sponsorship deal as Scotland's exclusive retail partner.
The deal includes a 'substantial financial contribution' from both brands to the Scottish FA, although figures were not disclosed.
Scotland is looking to qualify for a first major tournament in over 20 years when they get their Uefa Nations League campaign underway against Albania in September.
Sponsorship
Paralympics New Zealand (PNZ) has signed a partnership deal with Tower Insurance.
The Australian Football League's (AFL) Geelong Cats' women's side have announced a three-year sponsorship deal with Viva Energy.
LSU Athletics have announced a multi-year partnership with food producer Louisiana Fish Fry.
The International Swimming Federation (FINA) has entered a partnership deal with China's SPD Bank becoming the official partner of the Swimming World Cup.
Italian soccer club Inter Milan have signed a sponsorship deal with US manufacturer AO Smith.
Fellow Serie A side Atalanta have made footwear brand U-Power their second jersey sponsor of the season.
Coca-Cola has announced it will become a presenting partner of the 2020 Olympic torch relay in a deal with the International Olympic Committee (IOC).
Monumental Sports, owners of the National Basketball Association's (NBA) Washington Wizards and reigning National Hockey League (NHL) champions Washington Capitals has announced a multi-year extension to their exclusive stadium naming rights deal with carmaker Lexus.
Outfront Sports Media, the radio broadcast partner of National Collegiate Athletics Association (NCAA) Division One school LSU, has announced a partnership with advertising inventory manager Skyview Networks.
Media Rights
The International Cricket Council (ICC) has released an invitation to tender for live cinema screening rights for next year's Cricket World Cup.
The Ultimate Fighting Championship (UFC) has entered a broadcast partnership with Australia's Network Ten to show a range of programming on its free-to-air television channel One.
Personal Endorsements
Formula E driver Nelson Piquet Jr. has entered a two-year partnership with online trading services provider CFI Financial Group.
Marathon champion Paula Radcliffe has been named as the international ambassador of the Al Mouj Muscat Marathon in Oman, which takes place in January.
SmartSeries
In The Netherlands, soccer club Fortuna Sittard have entered a partnership with Dutch organisation ECV esports, as they prepare to enter the eDivisie competition run by the Dutch Eredivisie league.
Lucky Landing of the Day
French soccer club Marseille have tapped into the world of esports to reveal their purchase of Kevin Strootman, with the Dutch international turning up as a Fortnite character.
The video shows Marseille's new signing making a 'lucky landing' into their training complex before donning his new club's kit and revealing his identity.
It is not known what the Ligue 1 club's esports Fortnite team make of the whole affair at this time.
Our industry digest will update throughout the day as deals break so check back to make sure you do not miss a story