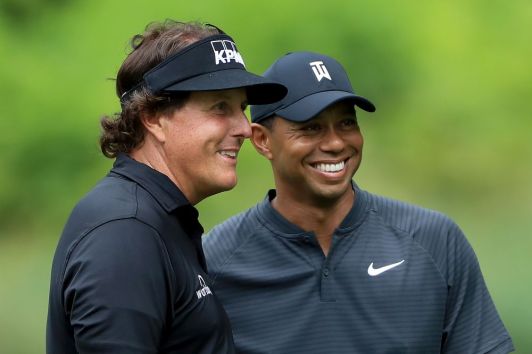 American media company WarnerMedia has secured the worldwide media distribution rights to the landmark 18-hole clash between iconic golfers Tiger Woods and Phil Mickelson, with the one-off contest being confirmed after recent talks.
'The Match', as it has been christened, will take place on the weekend of Thanksgiving 2018 (weekend of 24th November) at the MGM Resorts International, with the Shadow Creek course in Las Vegas playing host to the iconic players, who have won a combined 19 Major titles between them. The winner will win US$9 million.
As part of the deal, Turner Sports – a sub-operating division of the AT&T-owned corporation – will produce the event coverage, with match coverage to be available as a pay-per-view product on DirecTV – a subsidiary of AT&T – and on Turner's new live streaming platform B/R Live.
Turner Sports will produce all live event coverage, while also serving as the contest's exclusive sales and sponsorship partner.
Previews and post-competition shows will be broadcast on Turner's TNT channel, as well as on HBO Sport's '24/7' reality programmes, which will look ahead to the historic head-to-head match.
Meanwhile, Bleacher Report and its House of Highlights strand, which has more than 10 million followers on Instagram, will offer a comprehensive highlights package, on top of behind-the-scenes content.
TNT will also provide a selection of select content from the event in the weeks following the live competition, while Turner International will facilitate the distribution of the event beyond the US to provide pay-per-view access worldwide. The pricing structure of the live event has not yet been disclosed.
In an innovative addition to the one-off contest, Woods and Mickelson will pose in-round games including closest-to-the-pin and longest-drive challenges. Winnings from these will be donated to the charity of the player's choice.
David Levy, president of Turner, said: "The iconic Tiger Woods and five-time Major champion Phil Mickelson are generational talents who have transcended the game of golf and their rivalry continues to be one of the most compelling in sports.
"This one-of-a-kind, winner-take-all matchup provides a great opportunity to show fans the benefits of AT&T and WarnerMedia coming together. For the first time since AT&T's acquisition of Time Warner (now WarnerMedia), Turner, DirecTV and HBO will present a multi-faceted presentation of the live event and accompanying content across a vast array of platforms."