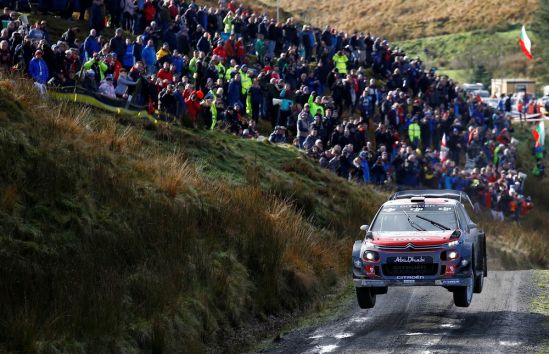 Golf: South Korean golfer Choi Kyung-Ju, commonly known as KJ Choi, has signed an equipment deal with Ping for the 2017/18 PGA Tour season. The 47-year-old will use 13 clubs provided by the American manufacturer, and will display the company's logo on the side of his hat and golf bag.
More golf: Golf Australia has announced a three-year partnership with Jardine Lloyd Thompson (JLT), which will become the official risk partner of the national governing body and its Women's Australian Open tournament.
Motorsport: High Peak Finland is the new official merchandise partner of the World Rally Championship. The online retailer will be the home for all of the global rally series' officially licensed products, including its clothing range, car accessories and toys.
Basketball: Renowned basketball brand Spalding has finalised a commercial agreement with Basketball New South Wales (NSW), the governing body for the sport in the Australian region. The American brand will be the official game ball and official backboard supplier of Basketball NSW leagues, competitions and teams, as well as the naming rights partner for NSW's highest level of competition, the Waratah League.
Netball: Japanese carmaker Mitsubishi Motors has become the official vehicle supplier of England Netball. The company's logo will feature prominently on the elite squad's uniforms and warm-up kits, as well as on the coaches' uniforms.
Swimming: Colorado Time Systems has extended and expanded its partnership with United States Masters Swimming until 2021. The manufacturer will continue to be the official timing partner of the non-profit membership national governing body, and will provide its suite of training tools and competitive equipment to enhance the organisation's events.
Multiple sports: Australian-American radio and TV distribution company Crocmedia has been announced as the official radio partner of Optus Stadium, a new 60,000-seater multi-purpose venue which opened in Perth, Australia in December 2017.
Cricket: Soft drink giant Coca-Cola has been unveiled as the title sponsor of the Bahrain Premier League, a new Twenty20 cricket tournament which will debut later this year.
Skiing: US Olympic freestyle skier Bobby Brown has signed an endorsement deal with hair salon franchise Great Clips. The three-time Winter X Games gold medallist, 26, will use his profile to encourage customers and winter sports enthusiasts to purchase products from the company's men's haircare line.
Rugby: Third-tier English rugby league team the Keighleigh Cougars have partnered with the Canadian Rugby League Association (CRLA). The deal will see players from Canada's national team travel to England to train with the Betfred League 1 outfit upon the completion of the Canadian domestic season.