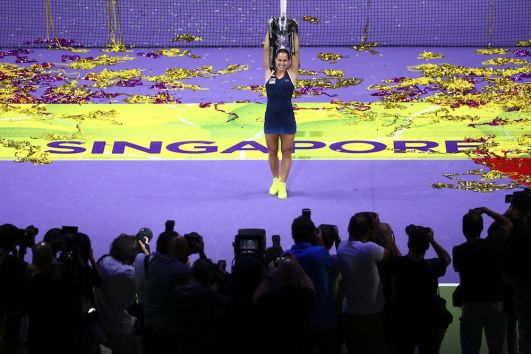 Perform Group has agreed a major media distribution deal with Telstra that will see action from the Women's Tennis Association (WTA) Tour delivered to broadcast networks around the world.
The six-year, multi-million dollar agreement with Telstra Broadcast Services, a division of the Australian telecommunications company Telstra, covers the transmission of live WTA tournament video and audio content.
Under the terms of the deal, Telstra's Global Media Network and Special Events divisions will facilitate the delivery of over 2,600 hours of live coverage from 47 events this year, including the Miami Open in March and the season-ending WTA Finals in Singapore in October. The deal also calls for Telstra to expand its commitment to more than 51 tournaments by 2020.
Telstra will distribute the content to Perform through its network of submarine fibre cable, satellite teleports and broadcast operations centres in Australia, Asia, Europe, and the United States.
​The agreement follows Perform's ten-year, US$525 million agreement with the WTA that saw the two parties establish WTA Media, the tour's dedicated media arm which now markets and distributes the rights to all major WTA tournaments, in April 2015. That deal is the largest in the history of women's sport.
"Perform is delighted to be working with Telstra," Dom Wedgwood, Perform Group's director of content operations, said in a statement. "This new partnership enables us to deliver more WTA matches, to more clients globally, than ever before. Working with Telstra brings significant benefits as we continue to grow the Perform Sports Cloud.
"Supporting an event of WTA's global scale is a step-change for Telstra Broadcast Services and reaffirms the value of Telstra's global reach and broadcast expertise as a top tier service provider. Expanding our presence in this market remains a key priority for Telstra's Global Enterprise and Services business and Telstra is investing heavily to bring the best solutions and technology to market for broadcast customers."